From a game of luck to a professional business, crypto trading involves price prediction, strategies, and possibilities. In this article, we'll guide you through the exciting world of crypto trading, how it works, and how you can benefit from it.
What Is Crypto Trading?
Crypto trading is the activity of buying and selling cryptocurrency between two entities. No one knows when exactly the first trade came into existence. But we do recognize that trading cryptocurrency has been around since people became more open to the idea of Bitcoin and cryptocurrencies.
The goal of trading crypto is to generate profits. But as complex as humans are, the purposes can vary. Many trade crypto for the sake of money. Others trade because they'd like to test their luck. Some find it challenging, but challenges are exciting.
Crypto trading is a business of possibilities, which means that risks and rewards always go hand in hand. The crypto market is highly volatile due to its newness. Still, the growth of this nascent industry has expanded beyond any wild imagination.
How Does Cryptocurrency Trading Work?
Trading coins are identical to hodl coins, with the exception of the investor's time goal. Coin holders tend to keep the coins for a few months to a year, whereas traders just buy and sell in a day or a few days.
Crypto trading comes in many different forms like margin trading and futures contracts, among others. These are examples of using leverage in trading cryptocurrency with tiny amounts of money to maximize returns.
Novice traders should avoid leveraged trading due to the higher level of risk. Leverage should only be used if you have good technical analysis skills, a trading mindset with absolute discipline, and capital management skills to minimize risks.
How Does The Cryptocurrency Market Work?
A cryptocurrency market is a place where all crypto-related activities take place and crypto trading is simply part of the market. As of 2023, CoinMarketCap has recorded over 22,000 cryptocurrencies and 500 exchanges available in the crypto market.
Volatility is the crypto market's signature since the market cap is humble. Holding a tiny cap exposes traders to market manipulation. Furthermore, the crypto space is still in its early days, easily leading new participants to insufficient confidence and excessive fear.
On the other hand, experts who have already entered the market are overconfident and have unwavering faith in the market, which will cause hubris and then sorrow as the price falls precipitously.
When it comes to the crypto market, almost every investor immediately thinks of multi-level projects with super profits, low investment, high income, etc. However, in reality, it is not simple. In order to make huge profits, you need to have a deep understanding, critical analysis, and a solid mentality to be able to make the right decisions and stand still even in the bear market.
Different Ways To Trade Crypto
CFD Trading
CFD (Contracts for Differences) trading is a form of derivative financial product that enables investors to bet on the price movement of the target asset and profit from price differences without having to own it.
In other words, instead of buying or selling the asset, you sign a contract with a CFD broker to pay the differences in price at the opening and closing of a trade.
CFDs have historically been linked to stock trading. However, it is now available in a variety of financial instruments such as commodities, precious metals, and, most particularly, cryptocurrencies.
Futures Trading
Futures trading is another popular form of derivative financial instrument. Futures trading with crypto is an agreement to buy or sell cryptocurrency between a buyer and a seller at a fixed price without having to own it. Upon the agreement, the two parties have to buy and sell crypto at the due date, regardless of the market price.
Traders will rely on their own analysis to predict price movements. These predictions represent by the choice of position when they enter crypto futures trading - Long and Short.
When an investor chooses Long, they have agreed to acquire an asset at a future date at a price agreed upon by the two parties when the contract expires. When an investor chooses to Short, they agree to sell this asset at a specified price when the contract closes.
For example, Kate purchased 1 Bitcoin for $23,000. She predicts that the Bitcoin price will fall on March 01, 2023, based on her market research experience. Kate opened a contract to sell Bitcoin futures at the current price of $23,000 to preserve her holdings in the event of a price dump.
When the contract's expiration date approached, the price of Bitcoin fell to $20,000, confirming Kate's prediction. Kate will now determine whether or not to purchase back the Bitcoin futures contract. If the contract trades for $20,000 closer to the settlement date, Kate will have made a $3,000 profit and protected her investment by selling high and buying low.
Spot Trading
Spot trading is the most common type of crypto trading. Unlike derivative trades, you need to own a required amount of the underlying tokens or coins to trade on crypto spot markets.
Spot trading in crypto takes place on crypto trading platforms, directly between traders. The number of cryptocurrencies will be unlimited. However, centralized exchanges such as Binance, Bybit, or Okex will need you to agree with compliance requirements, security, custodial, and other aspects to facilitate the trade.
Spot trading allows investors to buy or sell cryptocurrencies in real-time with instant delivery. They also have the right to deposit and withdraw funds at any time.
The most common strategy to trade the crypto spot market is to wait for a high selling price of the tokens to make a profit. The price will fluctuate in a short time and investors will seize the opportunity to trade in a timely manner.
ETF Trading
The term ETF (Exchange Traded Fund) refers to an investment fund that trades on stock exchanges. Simply put, this fund operates like a stock. ETFs consist of digital assets in the market under the control of an institution.
A Bitcoin ETF is made up of an entire Bitcoin index of companies. With a Bitcoin ETF, it is easy for investors to open a buy option of the underlying asset at incredibly low prices with a much simpler process than on an exchange. However, they don't really own any Bitcoins in their hands.
ETF trading helps new investors to test the water, experiencing the feeling of trading coins and getting to know the market before coming into direct contact with the exchange.
How To Trade Cryptocurrency For Beginners
Before signing up to trade crypto, you need to choose a trading platform. It's recommended to pick platforms with high credibility. Otherwise, you may want to do certain research to avoid risk potentials in the future.
Sign Up
Once you have your trusted option, the next step is to sign up for an account on the platform. Each platform has its own methods of identity verification. First, you will provide an email address and create a password. After that, the platform will direct you to the KYC (Know Your Customer) stage.
KYC is the process of verifying the identity of customers' real names. Cryptocurrencies are valuable but anonymous. To avoid scams and disputes later, crypto exchanges need to collect your identity information. The system will require you to provide certain documents including your identity card, selfie pictures, or vehicle licenses. These original documents are proof for later comparison.
You can Sign up to one of the largest crypto exchange Binance using our affiliate link and get rewards worth upto $600 when you trade!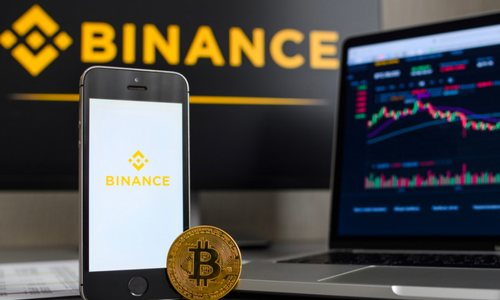 Register, deposit, and trade to earn a personalized reward!

Each reward may be worth up to $600 in token vouchers. Sign up now.
Sign Up
KYC in cryptocurrency exchanges is a must-have to authenticate participants' identities, supports multi-layered security and safety protection, avoiding hackers from entering accounts. The process might take you some time, but in return, it helps you buy, sell and trade crypto in a safe environment.
Buy Crypto
Once you successfully sign up on the crypto exchange, you can buy and start trading crypto. Most crypto exchanges allow users to buy crypto directly by card, bank transfer, or from other users through P2P trading. A bank transfer is usually the simplest, most penny-wise option to fund your account and it's accessible on Binance.
Start trading crypto
Now you have crypto in your account, the next step is to trade. Before trading crypto, make sure that you research everything about your target coin(s) and do a basic technical analysis of price movements or learn to use simple indicators like RSI, MACD, and Boligerband.
Learn carefully how to read charts and tools to add support to your trading strategy. You can learn crypto trading techniques online and search for more insights into the market, signals from basic to advanced. The more you learn, the less risk you encounter in the long run.
You can also learn the trading techniques of successful traders but keep in mind that trading crypto is a personal journey.
Store your cryptocurrency
Crypto will be stored in cryptocurrency wallets. Two popular types of wallets are hardware wallets and software wallets.
A hardware wallet is a wallet designed on the basis of a separate device, managed in offline mode, and can only be accessed by investors when owning the device. The wallets are suitable for investors who likely hold large volumes of cryptocurrencies over a long period of time (holders). Due to being stored on a private device in offline mode, hardware wallets ensure high security.
Software wallets are designed for active traders and investors with many transactions that need to be executed continuously and regularly. Software wallets are always connected to the Internet, so they could be less secure than hardware wallets.
Pros And Cons Of Crypto Trading
Pros of Crypto Trading
Fairness: Users can easily buy and sell cryptocurrency directly without any intermediaries that cause unfairness and difficulty when trading.
Convenience: With only a smartphone or laptop, or computer with an Internet connection, you're ready to begin your crypto trading journey at any time and anywhere.
Fast and low-cost transactions: When trading crypto, investors can transfer money from one country to another quickly and at an extremely reasonable cost.
Profitability: In addition to holding tokens, you can choose to trade crypto to generate high returns. It is important to note that rewards mostly result from patience, tenacity, proper trading strategies, and effective risk management.
Cons of Crypto Trading
Volatility: Like stock or forex trading, crypto trading is always associated with volatility. Large and unusual price movements can change from hour to minute, requiring investors to keep an eye on them continuously.
Regulatory uncertainty: Cryptocurrency progressively wins mainstream acceptance. However, it struggles to gain regulatory approval in a number of countries due to its volatile nature. In China, all crypto-related operations including crypto trading and transactions were banned.
Intimate knowledge: Real luck only comes when you're prepared. Trading without knowledge is not profitable in the long run. If you want to make great profits from crypto trading, there are no other ways than constantly equip yourself with knowledge and skills.
Final Verdict
Any profitable investment instrument has potential risks associated with it. Most fraud cases are due to a lack of knowledge, poor research, and risk management. If you decide to trade crypto, you need to firmly grasp the information, and the market insights as well as understand the nature of crypto trading.