Bitcoin (BTC) is the first cryptocurrency that has captured traction in the crypto space. It was created in 2009 by an anonymous person or group using the pseudonym Satoshi Nakamoto. One of the most popular exchanges for buying and trading Bitcoin is Binance. In this guide, we will walk you through the steps on how to buy Bitcoin (BTC) on Binance.
Where to buy Bitcoin?
Some of the most popular exchanges to buy BTC include Binance, Coinbase, Kraken, Bitfinex, and Huobi. When choosing an exchange to buy BTC, it's important to consider factors such as fees, security, user interface and supported payment methods. It's also important to note that some exchanges may not be available in certain countries or regions.
Step-by-Step Guide on How to buy Bitcoin:
Follow the below steps to buy Bitcoin using the Binance exchange. If you are interested in getting interested in Bitcoin then check out our guide on getting interest on BTC.
Step 1: Register for a Binance account
Register using our Affiliate link to get a $600 worth of welcome bonus.
The first step is to register for a Binance account, if you already have a Binance account then you can skip this step.
To register, visit the Binance website and click on the "Register" button at the top right-hand corner of the page. You will then be prompted to enter your email address and create a password. You can also simply use the main sign-up with an email or phone option as well.
After completing this step, you will receive an email confirmation from Binance.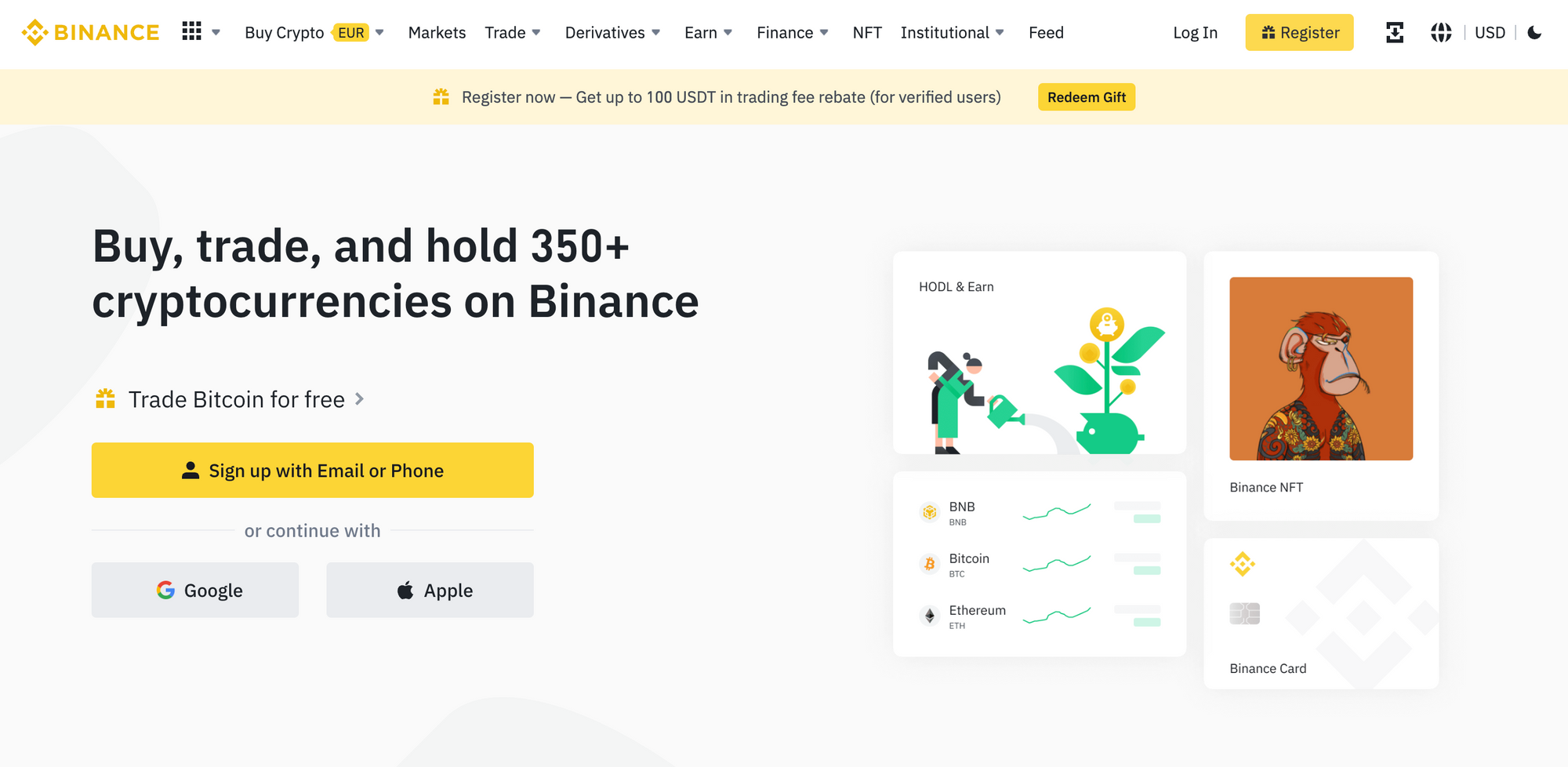 Create an account using your personal phone number or email address on Binance. There is also an option to register as an entity if you are looking to buy Bitcoin as a Limited company business on the Binance exchange.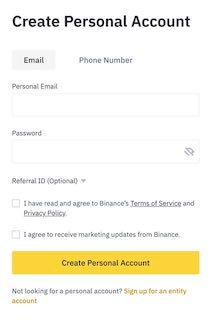 Step 2: Verify your identity on Binance
Before you can buy BTC on Binance, you will need to verify your identity. To do this, click on the "Profile" button on the top right-hand corner of the page and select "Identity Verification."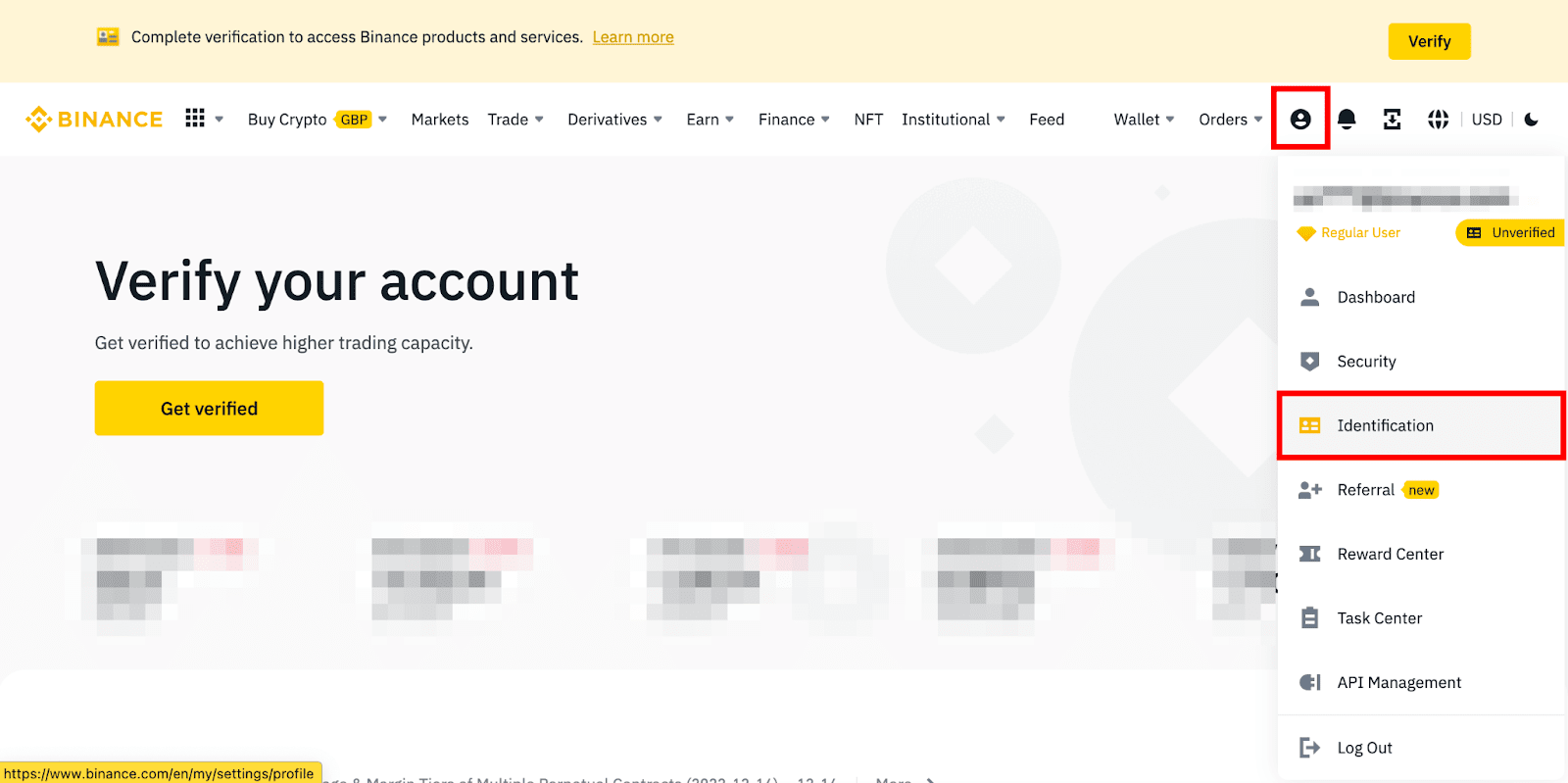 Follow the instructions provided by Binance to complete the verification process.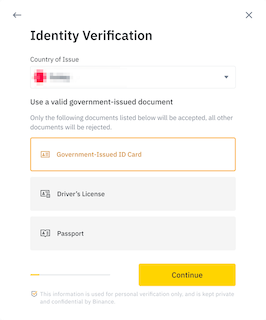 To complete your Binance registration process and start buying crypto on the Binance platform, you will need to submit a valid government-issued passport or Driving license based on your country of residence.
Step 3: Buy BTC
There are numerous ways to buy Bitcoin on the Binance exchange and it all comes down to your personal preference. We will explore some of the most popular ways to buy Bitcoin on Binance.
Option 1: Fund your Binance account with crypto
This method is useful for anyone who already owns Bitcoin in other platforms or wallets. Once you have transferred your Bitcoin to your Binance account, you can buy other Crypto using your BTC.
To fund your Binance account with Crypto, click on the "Deposit" button on the top right-hand corner of the page. You will then be prompted to select the cryptocurrency you want to deposit. Select the cryptocurrency you wish to deposit and follow the instructions provided by Binance.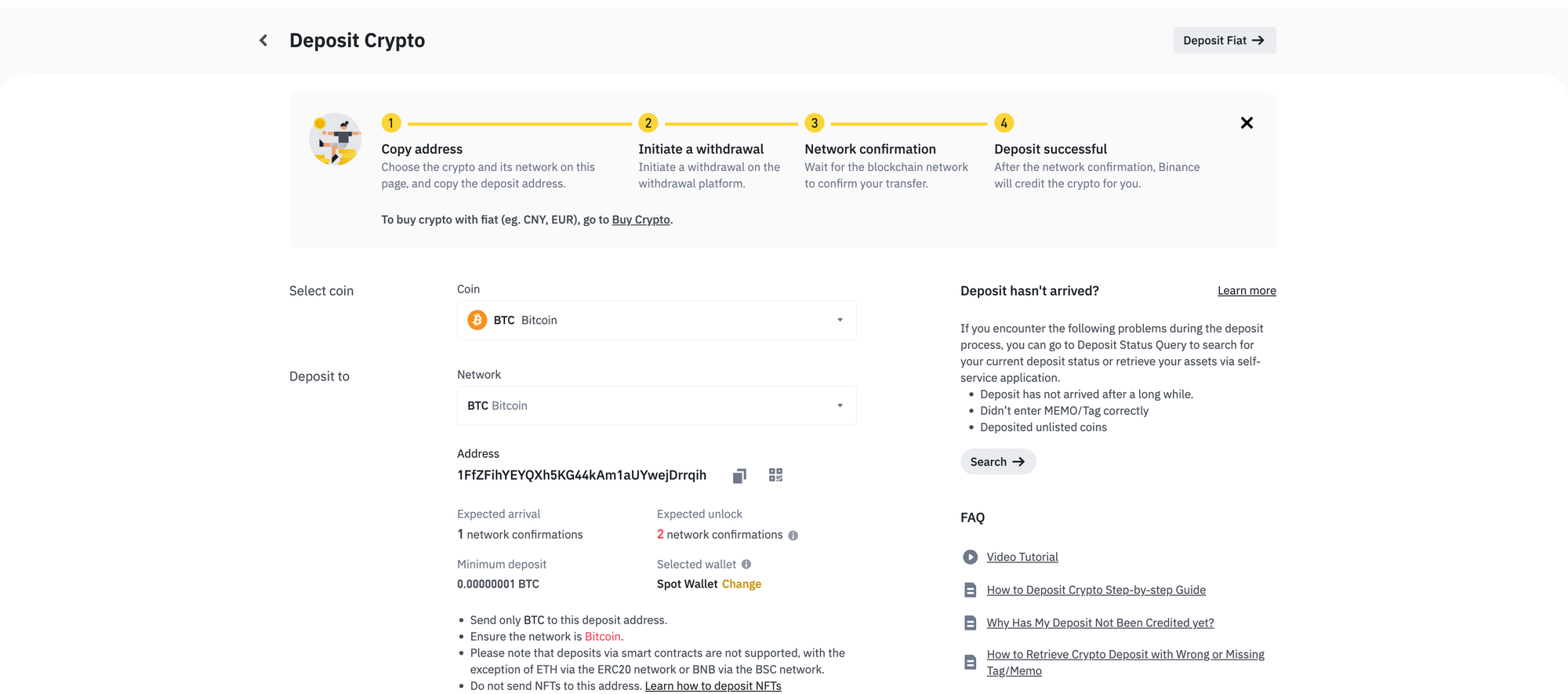 Choose the crypto (in this case we have selected bitcoin) and its network on this page, and Binance will generate a bitcoin address to deposit your BTC. Copy the deposit address and initiate a withdrawal on the withdrawal platform. Once the transaction is confirmed in the network, Binance will credit the crypto for you.
Congrats! You have now funded your Binance account with Bitcoin to trade other Crypto tokens.
---
Option 2: Fund your Binance account with Fiat
If you prefer to fund your account with your preferred fiat currency beforehand then this option will benefit you. Customers can fund their Binance account with fiat currency by either direct bank transfer or via credit/debit card.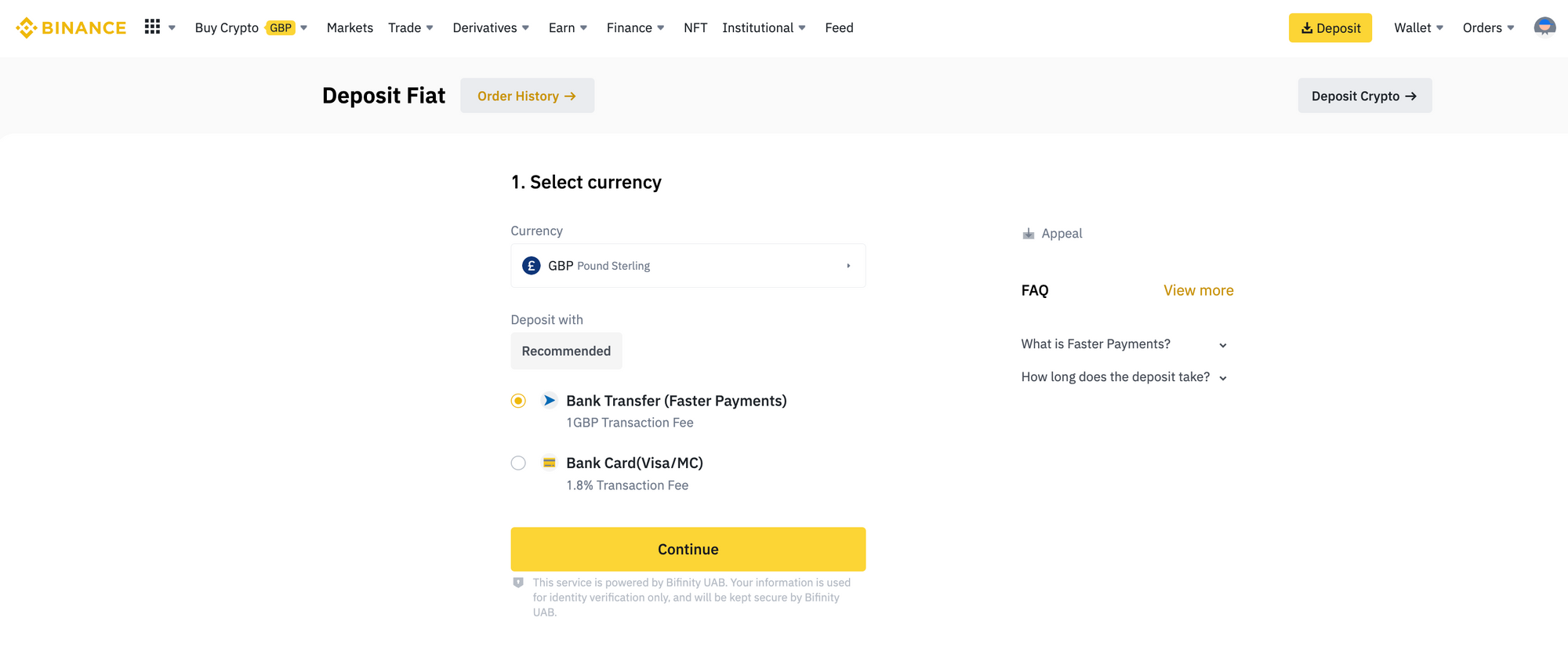 When using the Bank transfer method to fund your account, make sure to follow the below tips:
Your bank account name must match the name registered to your Binance account.
Please include your full name in the Reference/Remark section of your bank transfer.
If the deposited amount exceeds your daily limit, Binance will divide the total payment based on your maximum daily limit.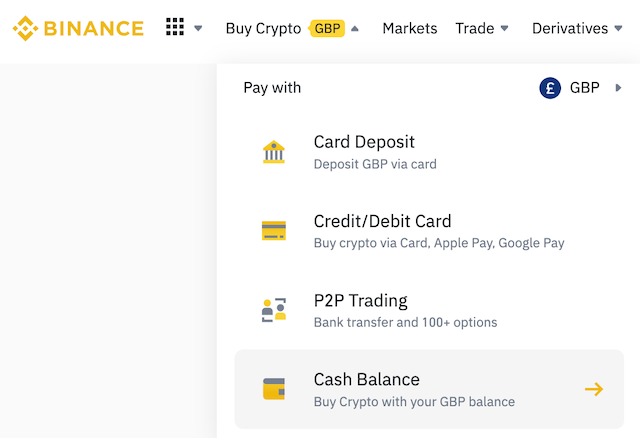 After funding the account with fiat currency, it will be stored as your cash balance on the Binance account. Using the deposited fiat currency, you can now buy crypto using the buy crypto with Cash Balance tool.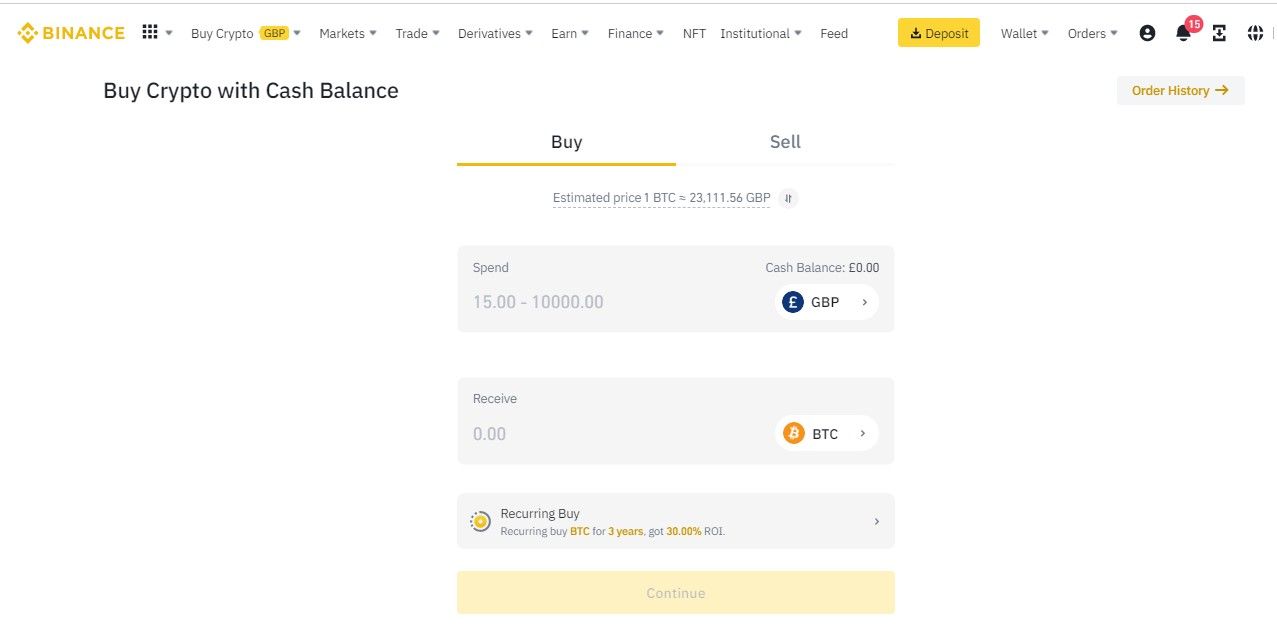 With your preferred fiat currency, as shown above, buy Bitcoin right away! You will get an estimated price of BTC based on the currency of choice and you simply enter the desired amount of BTC to buy and confirm the order.
Congrats! You have now bought BTC by funding your Binance account with fiat currency and using a Binance Cash balance.
---
Option 3: Buy Bitcoin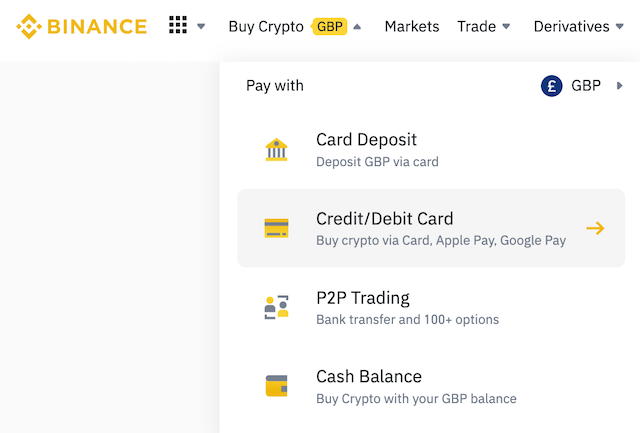 To buy BTC on Binance using a Credit or Debit card, you need to navigate to the Buy crypto via card page using the top page navigation menu.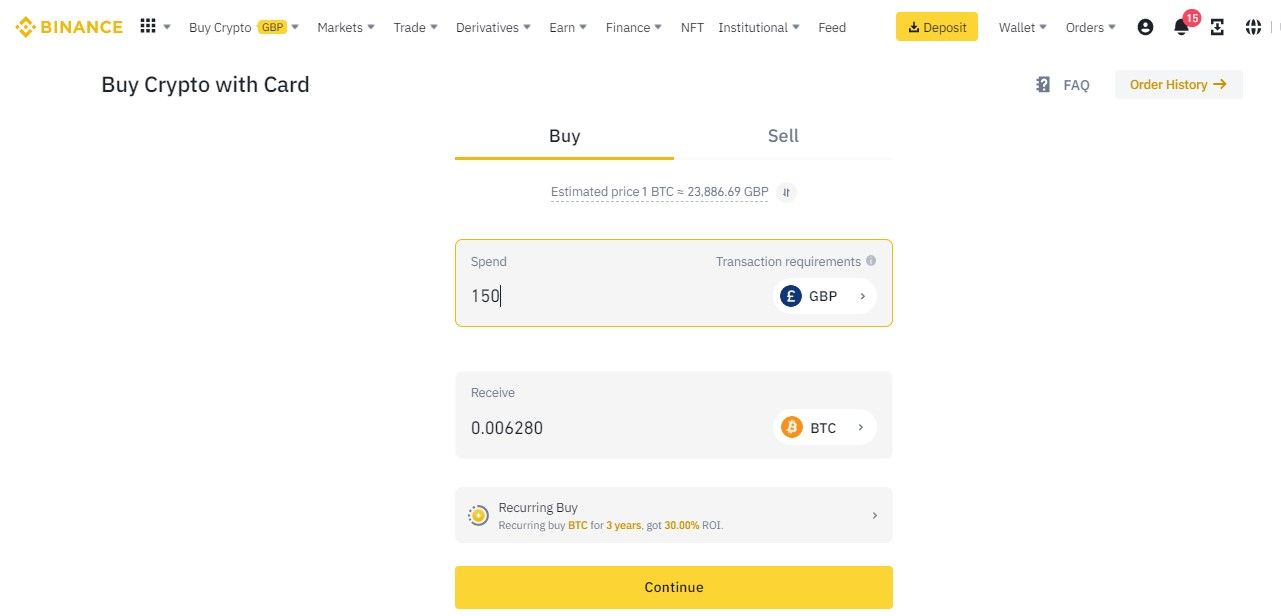 On the buy crypto with card page, you will see a variety of options to choose the fiat currency of your choice to buy Bitcoin. Enter the desired amount of BTC tokens to buy and click Continue.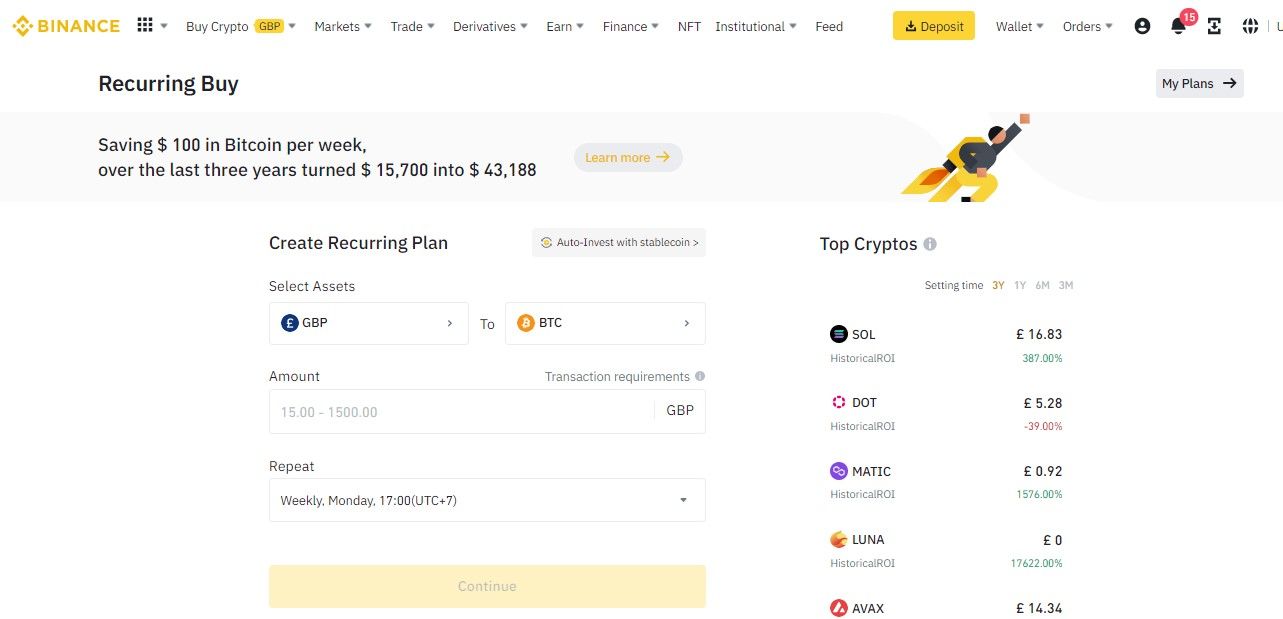 Alternatively, you have the choice to buy BTC on a recurring basis. This is when you regularly invest in cryptocurrency with a pre-determined amount and accumulate your crypto holdings over time. If you are committed to the long-term growth of Bitcoin and bullish on its future price predictions, this is a great way to DCA into the Bitcoin project.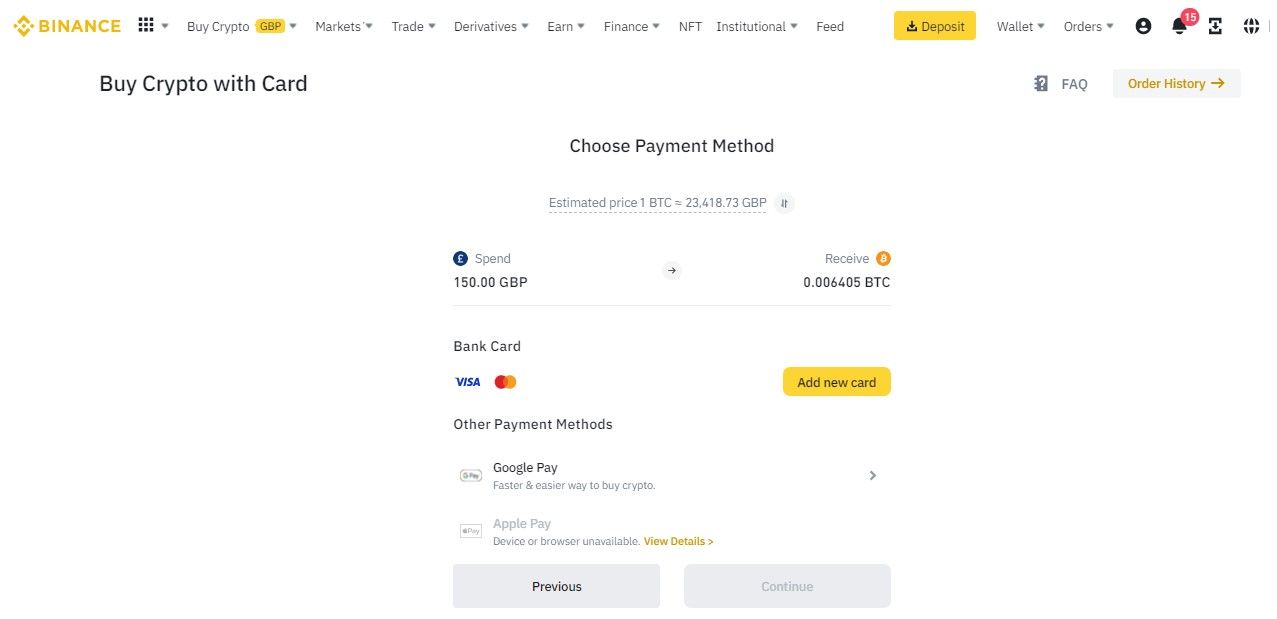 In the payment method section, if you just created your Binance account then add the card details which you will use to purchase BTC.
Once you have entered the card details, you need to review the order details to make sure they are correct. If everything looks good, click on the "Buy BTC" button to complete the purchase.
Congrats! You have now bought BTC by funding with your Credit/Debit card!
Step 4: Buy Bitcoin
Buy Bitcoin with Paypal: Binance does not support purchasing Bitcoin (BTC) directly with PayPal at this time. However, you can still use PayPal to buy cryptocurrencies on other platforms, and then transfer those funds to your Binance account to purchase Bitcoin. Other exchanges such as Coinbase support Paypal payment methods to buy crypto. If you have an existing PayPal account, you'll be able to start making transactions on Coinbase right away.
Buy Bitcoin with a credit card on Binance exchange: To Add a credit card, Go to the "Buy Crypto" page on Binance and select "Credit/Debit Card". Follow the prompts to add your credit card details.
Buy Bitcoin with Debit Card: To Add a debit card: Go to the "Buy Crypto" page on Binance and select "Credit/Debit Card". Follow the prompts to add your debit card details.
How to Buy Bitcoin with Apple Pay and Google Pay on Binance
The following steps will guide you through how to buy Bitcoin using Apple Pay & Google Pay.
Log in to your Binance account and click Buy Crypto with Credit/Debit Card.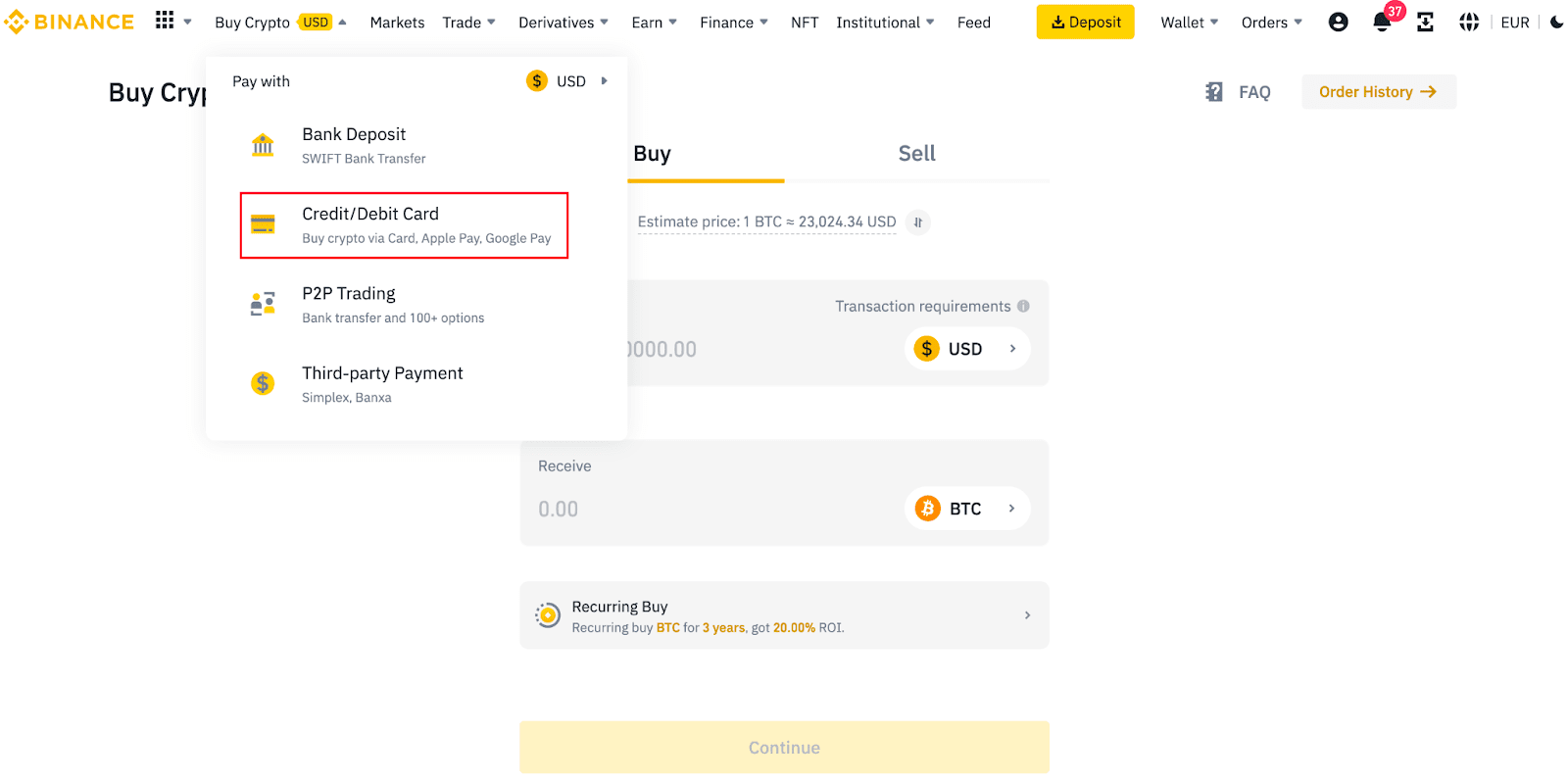 2.   Select the fiat currency according to your country and then select Bitcoin crypto to buy from the list. Enter the amount and click Continue.
3.  After choosing BTC to Buy, Select Apple Pay or Google Pay as the payment method.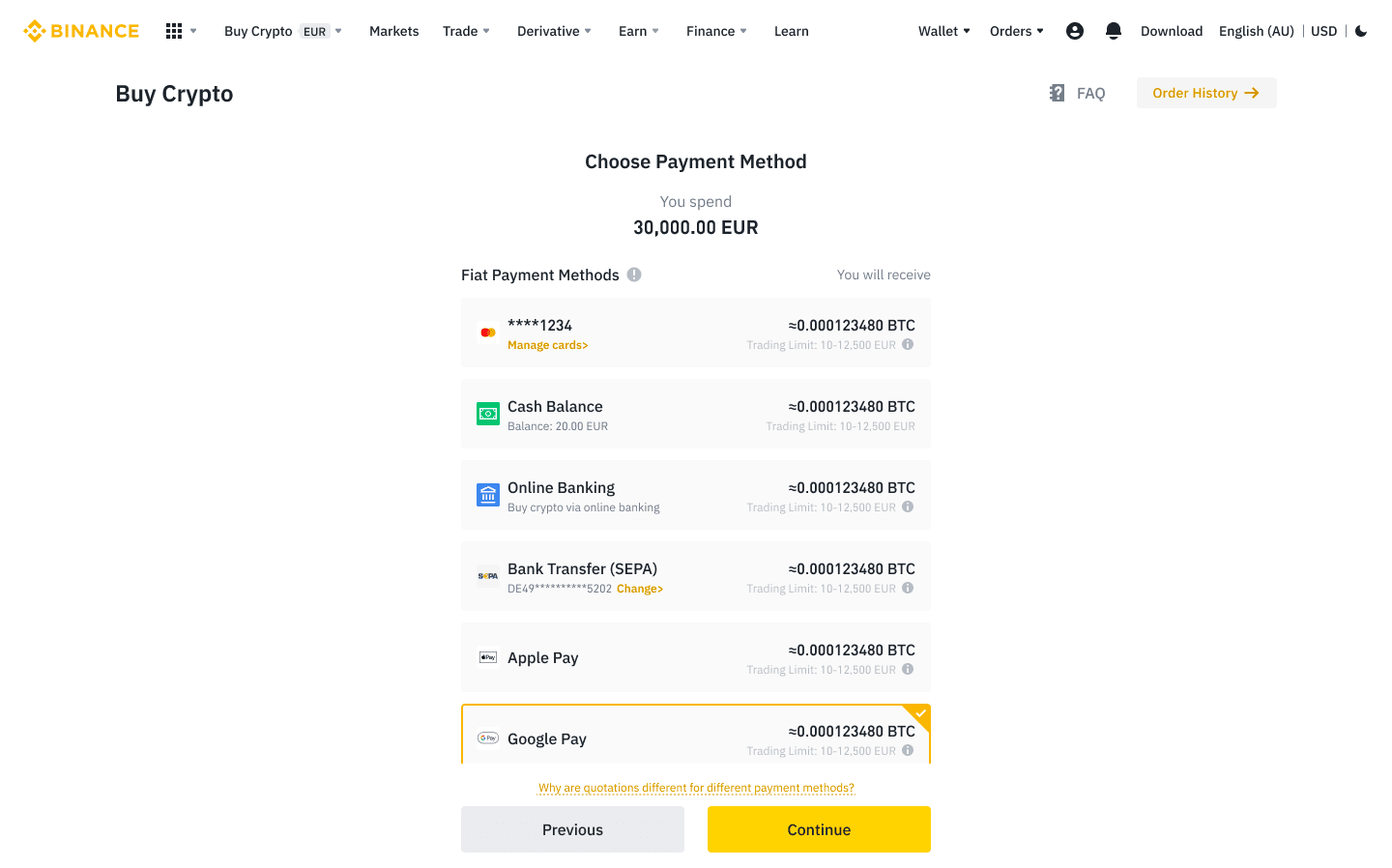 4.  Once you have successfully added/chosen your credit/debit card, click     Confirm to proceed. Check the payment details carefully and confirm your order within one minute or else after one minute mark the price and the amount of crypto will be recalculated. You can click Refresh to see the latest market price.
Congrats! You have now bought Bitcoin on Binance using your preferred Google or Apple pay.
Step 5: Withdraw BTC from Binance
After buying BTC on Binance, you may want to withdraw it to a hard or soft wallet that you control. To do this, click on the "Withdraw" button on the top right-hand corner of the page. You will then be prompted to enter the wallet address to which you want to withdraw your BTC. Make sure you enter the correct address, as transactions on the blockchain are irreversible.
You will also need to enter the amount of BTC you want to withdraw. Once you have entered the correct wallet address and the amount of BTC you want to withdraw, click on the "Submit" button. Binance will then process your withdrawal request, and your BTC will be sent to the wallet address you provided.
Tips for buying BTC on Binance
Always double-check your order details before placing a trade to make sure everything is correct.
Consider using the "Limit" order type instead of the "Market" order type when buying BTC. With a limit order, you can set the price you are willing to pay for BTC, whereas with a market order, you will pay the current market price for BTC, which may not be the best price.
Consider using two-factor authentication (2FA) to enhance security after registration.
10 reasons to buy Bitcoin right now
Should I buy Bitcoin? If you are looking or thinking about whether you should buy Bitcoin or not then the below points may provide you with some clarity about the project.
Potential for high returns: Historically, Bitcoin has had periods of significant growth, which has led some investors to view it as a potentially high-return investment.
Limited supply: The maximum supply of Bitcoin is limited to 21 million, which has made some investors believe that it could become a scarce asset in the future.
Decentralized: Bitcoin operates on a decentralized network, which means that no single entity or organization has control over it.
Security: Transactions on the Bitcoin network are secured by advanced cryptography, making it difficult for hackers to steal Bitcoin or interfere with transactions.
High liquidity: Bitcoin is one of the most traded cryptocurrencies, with a high level of liquidity, which means that it can be easily bought or sold for fiat currency or other cryptocurrencies.
Adoption by mainstream companies: Several large companies, such as Tesla, Square, and PayPal, have begun accepting Bitcoin as a form of payment, which could increase its mainstream adoption.
Hedge against inflation: Some investors view Bitcoin as a potential hedge against inflation, as its supply is limited and its value is not directly tied to any government or central bank.
Potential for diversification: Investing in Bitcoin could potentially provide diversification benefits to a portfolio, as it is not directly correlated with traditional assets like stocks and bonds.
Global accessibility: Bitcoin can be used and traded globally, which makes it an attractive asset for people who live in countries with unstable currencies or limited access to traditional financial services.
Emerging technology: Bitcoin and its underlying technology, blockchain, are still in their early stages of development, which means that there may be future innovations and advancements that could increase its value.
---
---