Staking Celestia ($TIA) is the easiest way to participate in the Celestia network and earn rewards. Our guide will show you how to stake $TIA with validators in simple steps.
What is Celestia (TIA)?
Celestia is a modular data availability network designed to tackle the scalability trilemma of blockchain and data availability problem. That said, the project implements a modular architecture that specializes in and optimizes different tasks, such as data availability, execution, and settlement.
Celestia also scales through data availability sampling, which allows the network to safely increase its block size as more light nodes join. The ultimate goal is to enable scalable, flexible, and interoperable blockchain applications for mass adoption.
The platform enables anyone to deploy their own blockchain in minutes, as easily as a smart contract. Plus, developers can build their apps with their favorite VM, or 'build sovereign rollups, a new type of self-governing blockchain with minimal platform risk.'
Celestia Delegating: Validators and Delegators
Celestia is a proof-of-stake blockchain that supports in-protocol delegation. $TIA holders can delegate their tokens to a validator, who will secure the network on their behalf. In return, delegators receive a share of the staking rewards.
The network starts with an initial validator set of 100. Validators charge a fee to delegators, which gives them a portion of staking rewards. Staking $TIA is now available for Mocha testnet.
When you delegate stake to a validator, you specify:
ID of the node you wish to delegate to.
Start times of your delegation (which must be while the validator is actively validating).
Precise amount of $TIA you are staking.
Celestia Staking Requirements
The minimum amount that a delegator must delegate: There is no specified information about the minimum delegating amount as of November 2023.
Unbonding wait period: 21 days. When you decide to unstake your tokens, your stake will be locked in 21 days and can be transferred. It's noteworthy that if the validator is slashed due to malicious behavior, a portion of your delegated tokens may also be slashed.
Staking fee: Staking fees are typically set by individual validators and can vary.
TIA Staking Rewards
$TIA staking APR (Annualized Percentage Rate) currently stands at around 21.67%. It's important to note that the rate could change in the future and vary for each validator.
How to Stake Celestia with a Validator: Step-by-Step Guide
Staking $TIA is currently available on Keplr wallet and Leap wallet. You can choose your preferred one and get started.
Keplr Wallet is a safe and popular choice, but if you interact with Cosmos chains more frequently, Leap Wallet is a viable alternative. The only drawback we've experienced with Leap Wallet (at the time of writing) is the slow loading time when opening up the extension.
Stake Celestia on Keplr Wallet
Step 1: Set up your wallet:
Install Keplr wallet based on your browser or operating system.
In this guide, we choose Chrome.
Choose 'Create a new wallet' or 'Import an existing wallet' if you already have one or use a hard wallet.
Keplr lets you use a Google account to set up a wallet, which is not a recommended option due to its lower security. But if you want to quickly test the interface, you can try this option.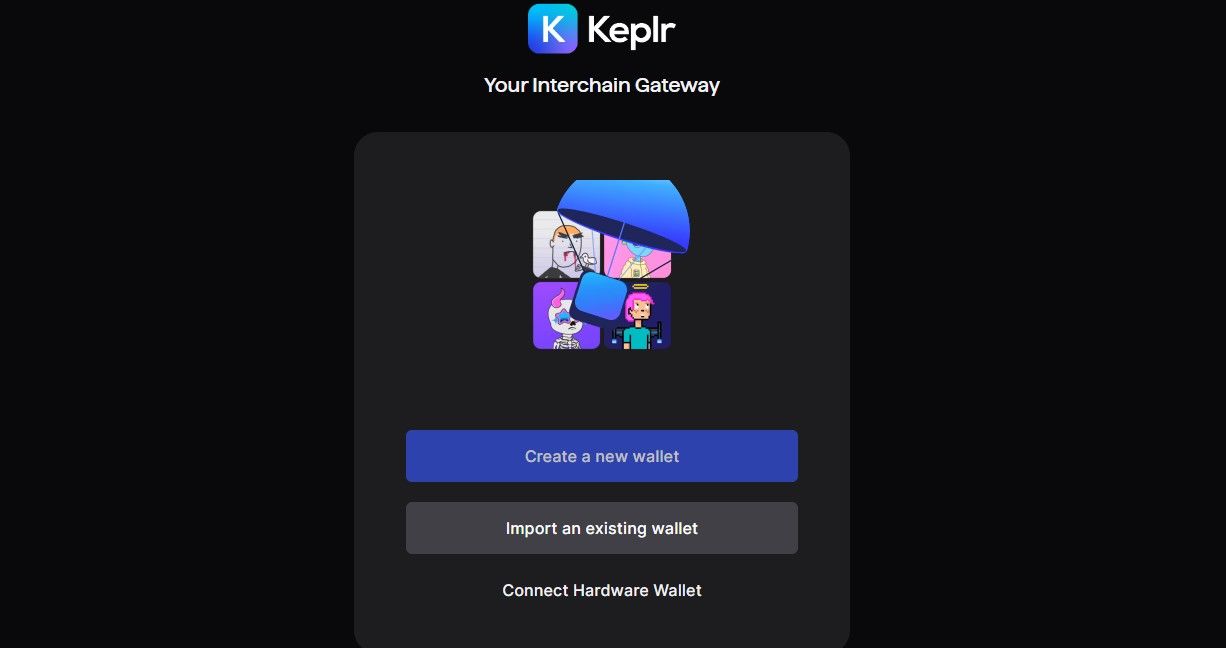 Write down your seed phrases and keep them safe. If you want to set a custom derivation path for advanced security, please carefully read the Keplr guide.
Next, you need to enter your wallet name, create a password, and confirm your password. After that, choose Celestia network. You can add other networks if you plan to use them later.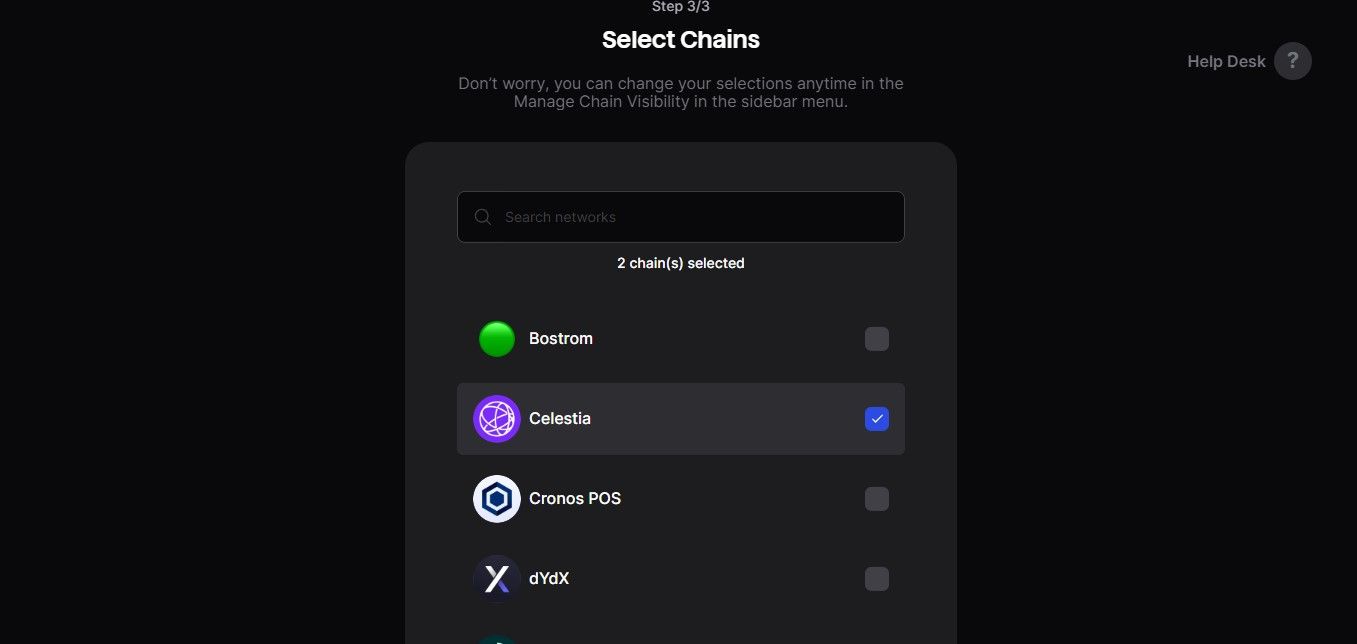 Click 'Finish' - the browser will be closed. Now reopen your wallet and choose 'Staked.' Click on 'Stake with Keplr Dashboard.'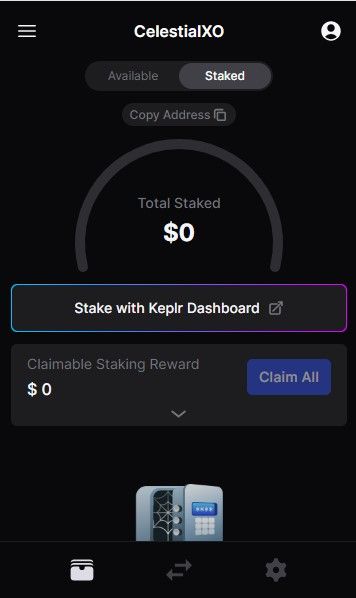 Go to Celestia's staking dashboard. You can see all the details here, including your total $TIA amount, staked amount, balance, claimable rewards, and a list of 100 active validators.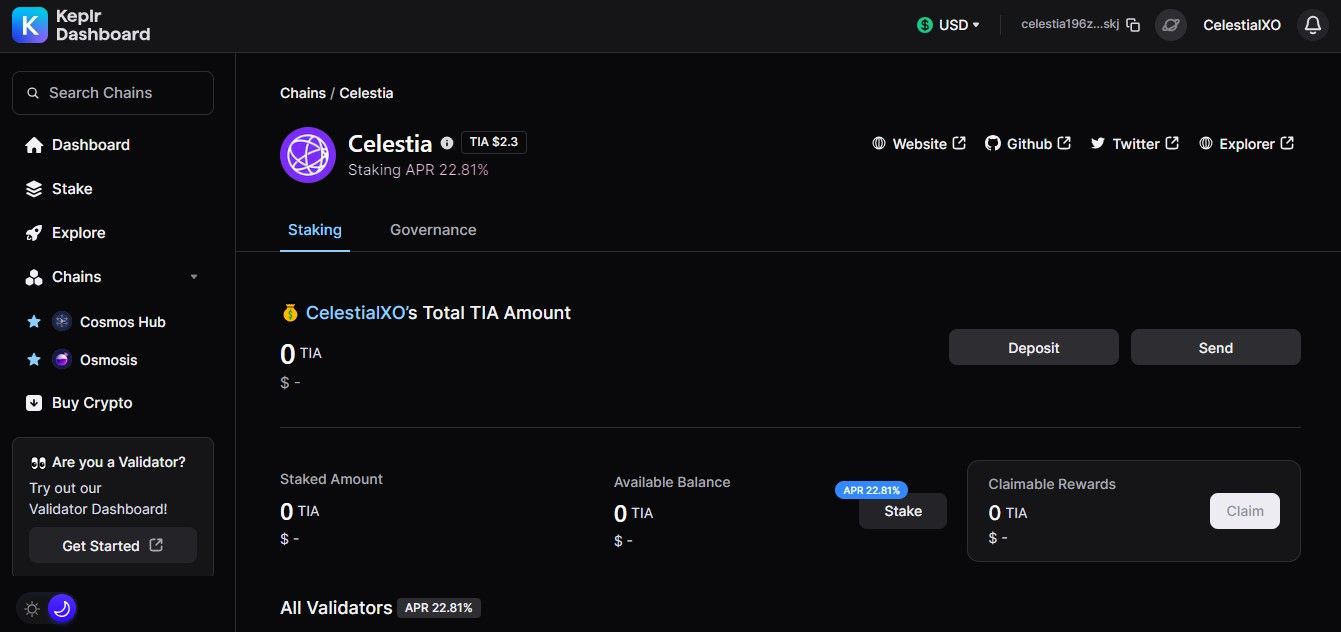 Step 2: Top up your wallet:
You can buy $TIA on exchange and transfer it to your Keplr wallet. Buying Celestia on Binance is one of the most popular choices.
If you already have $TIA on Binance's balance, you can choose to withdraw your coins to your Keplr account. After withdrawing, your $TIA will appear on the dashboard.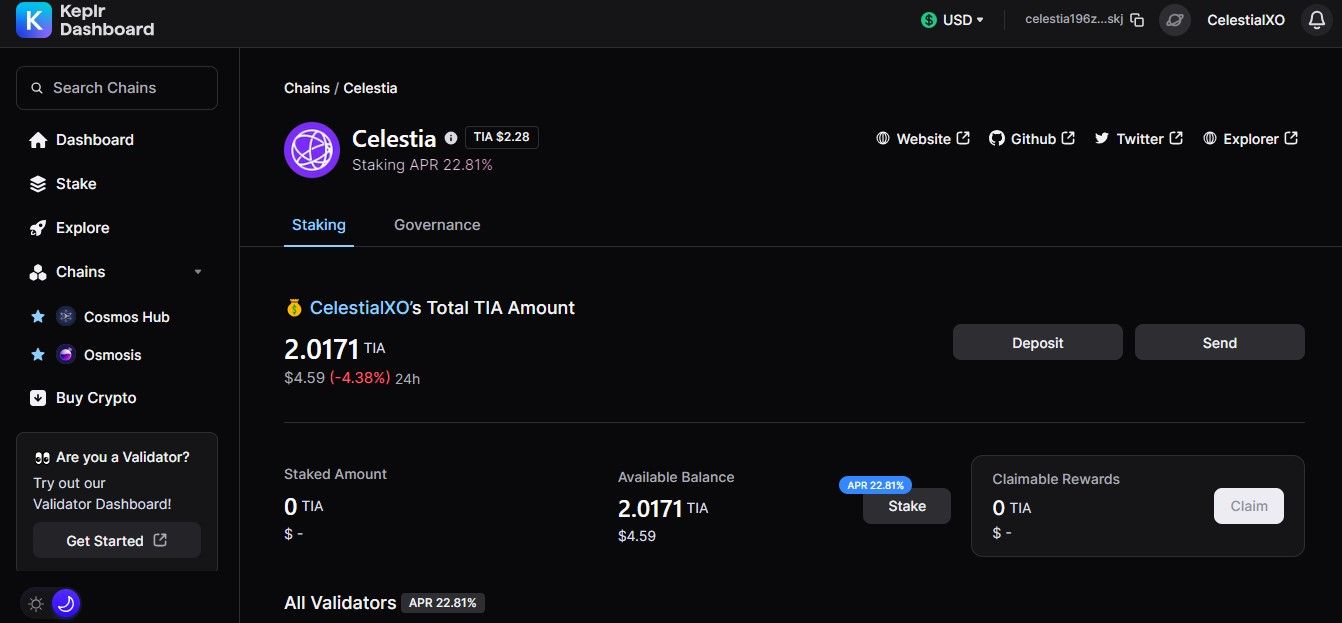 Step 3: Stake $TIA:
On your dashboard, click 'Stake.'
Choose a validator to delegate your $TIA based on the commission and voting power.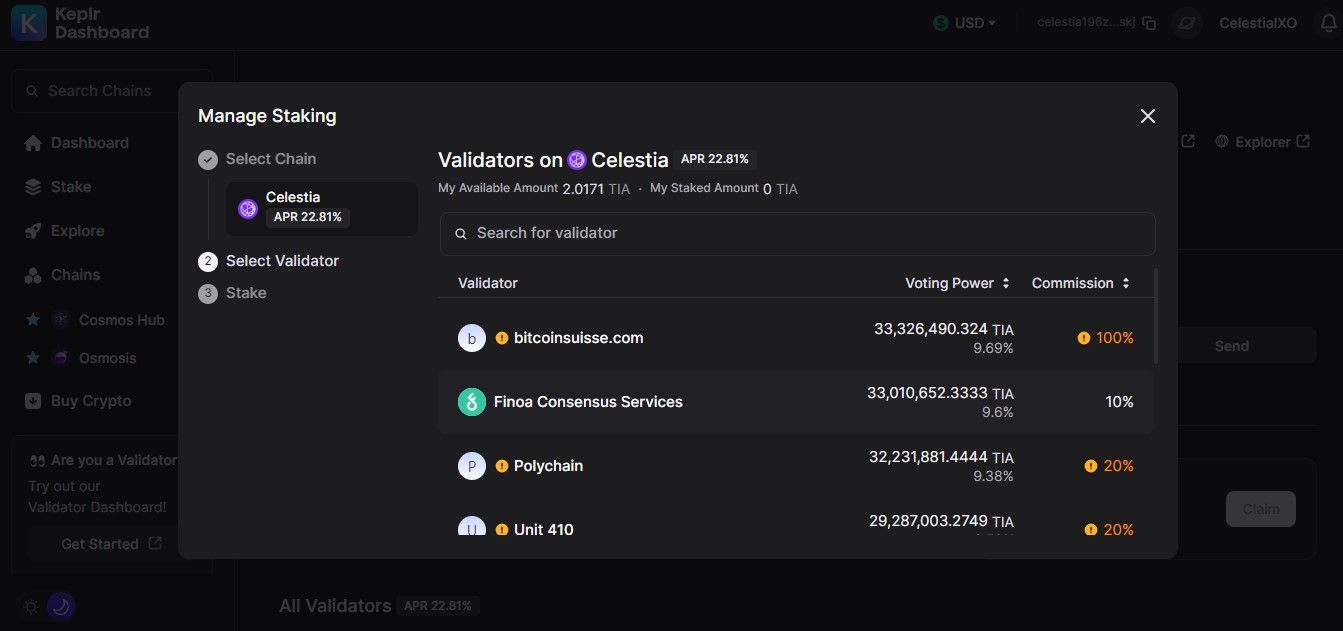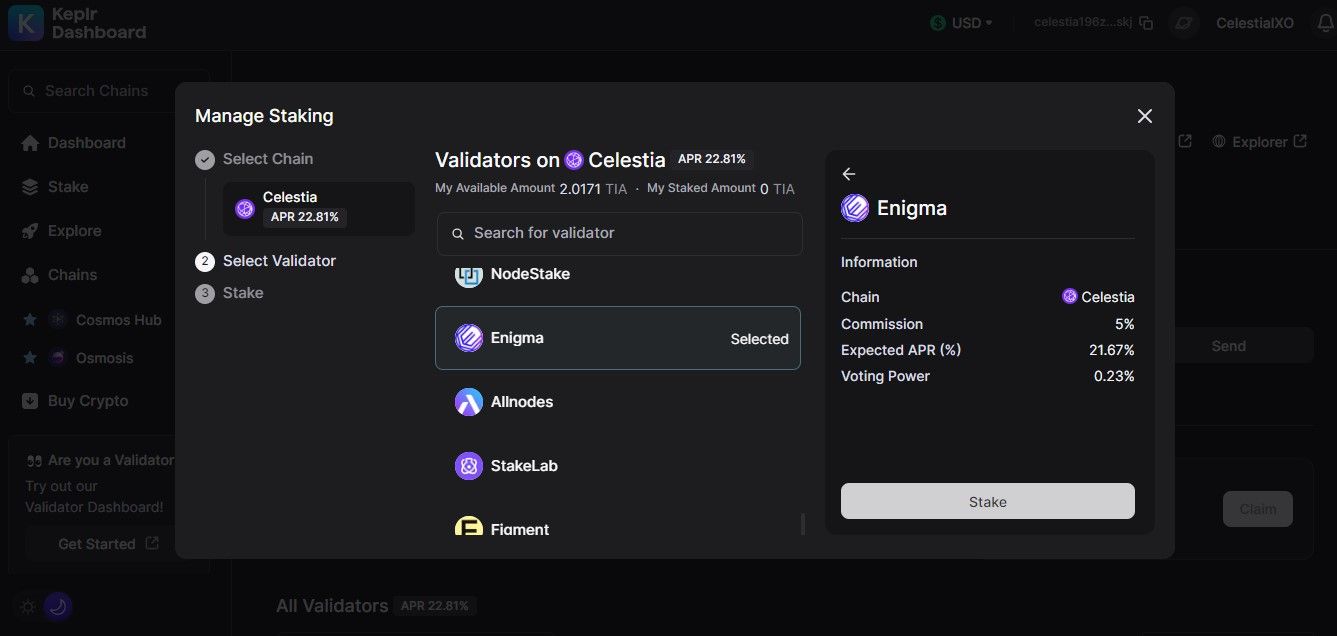 Step 4: Delegate $TIA:
Enter your staked amount and click 'Stake.'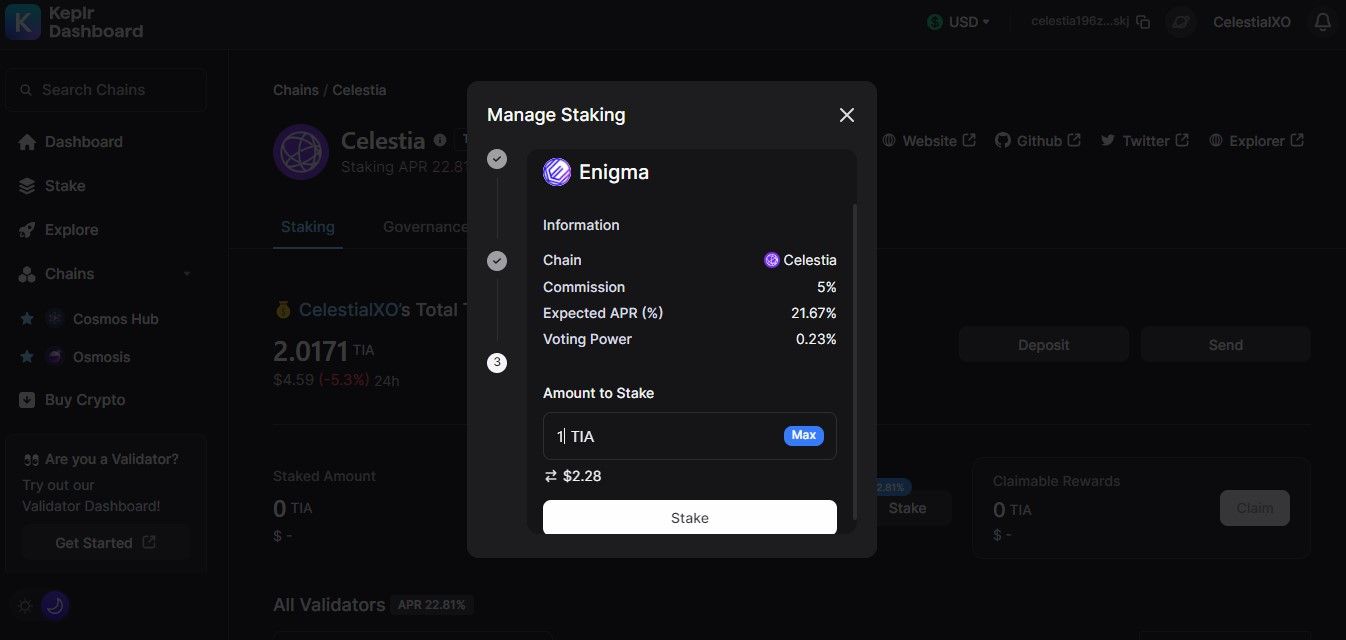 After clicking 'Stake,' you're asked to confirm the transaction. Double-check all the details and choose 'Approve.'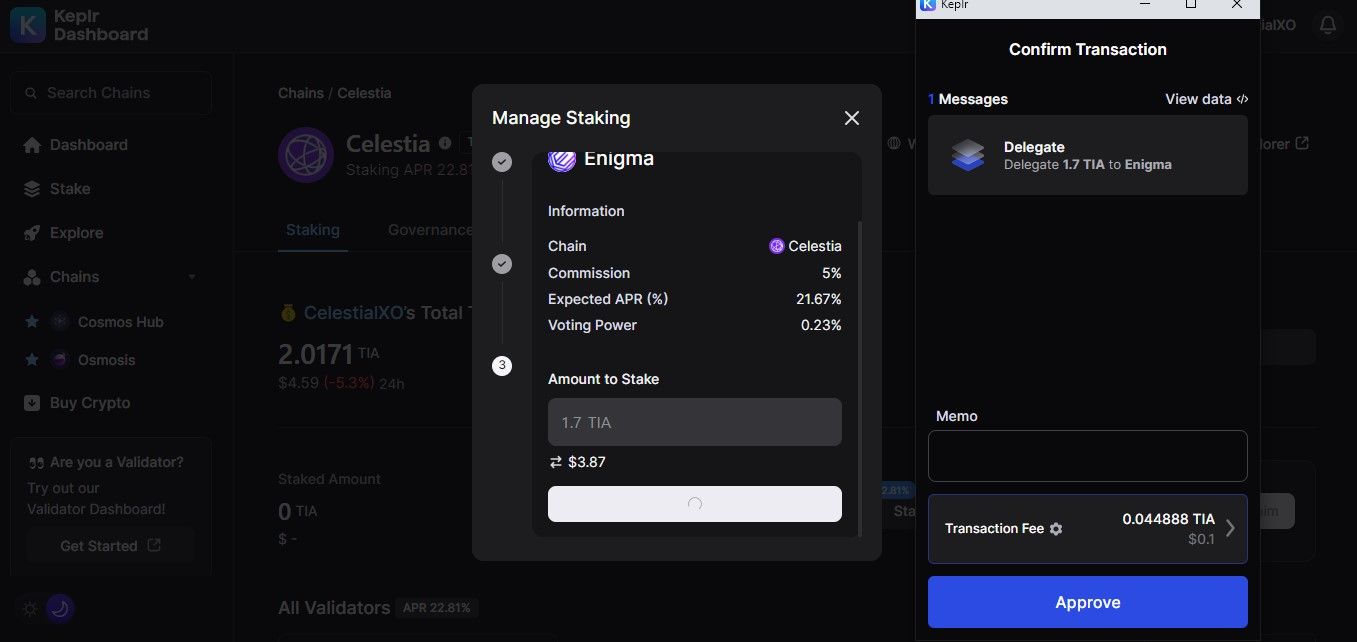 You've successfully staked $TIA with Keplr Wallet. Navigate your dashboard to overview all the information about your balance and staked amount.
Note: staking will lock your funds for 21 days, meaning you need to wait for 21 days if you want to unstake or touch your staked assets.
Stake Celestia on Leap Wallet
Step 1: Set up your wallet:
Navigate the Leap Wallet website and choose 'Get Leap!'
Set up your wallet based on your extension, mobile, or web dashboard. We chose Chrome for this guide.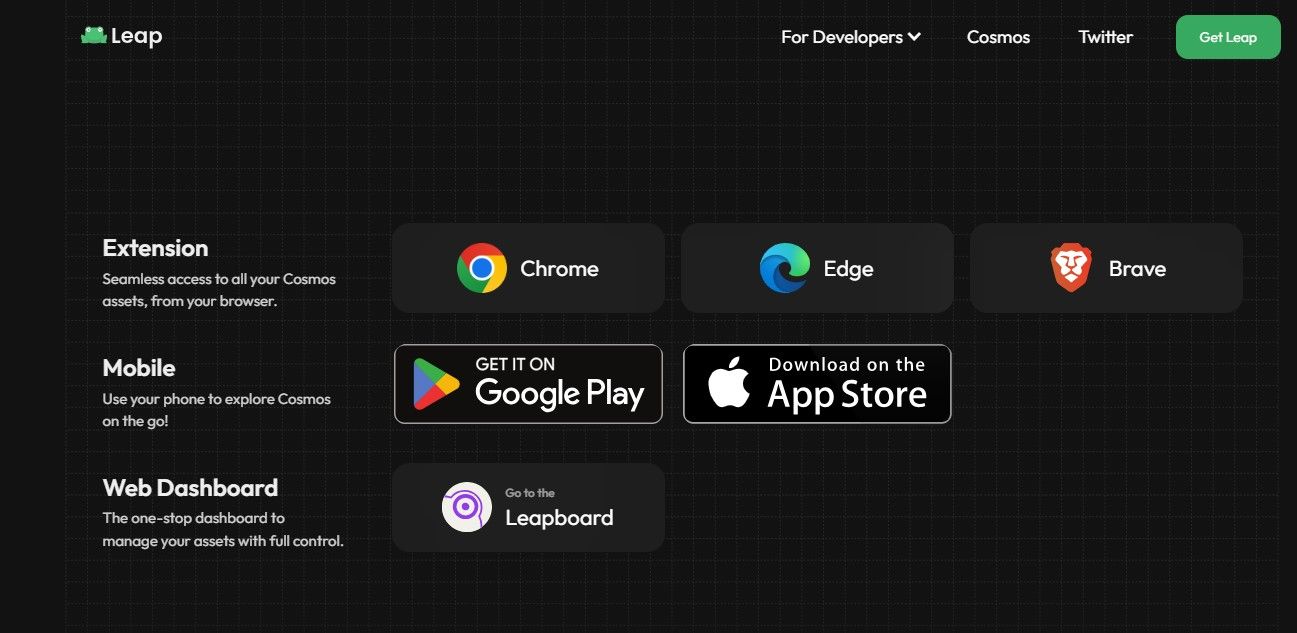 Select your method to set up the wallet.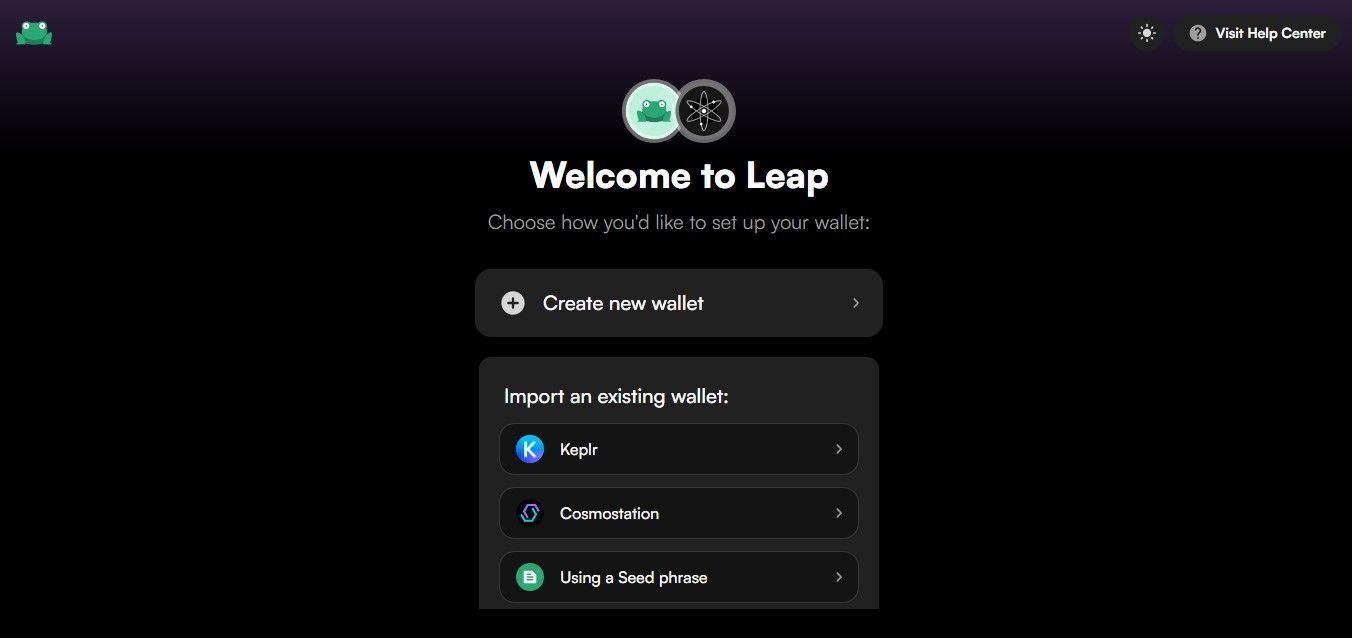 After completing the basic verification, you're done setting your Leap wallet.
Step 2: Top up your wallet:
If you are familiar with Cosmos-powered chains, you can transfer $ATOM or any other supported tokens to Leap Wallet, and swap it to $TIA with IBC Swap.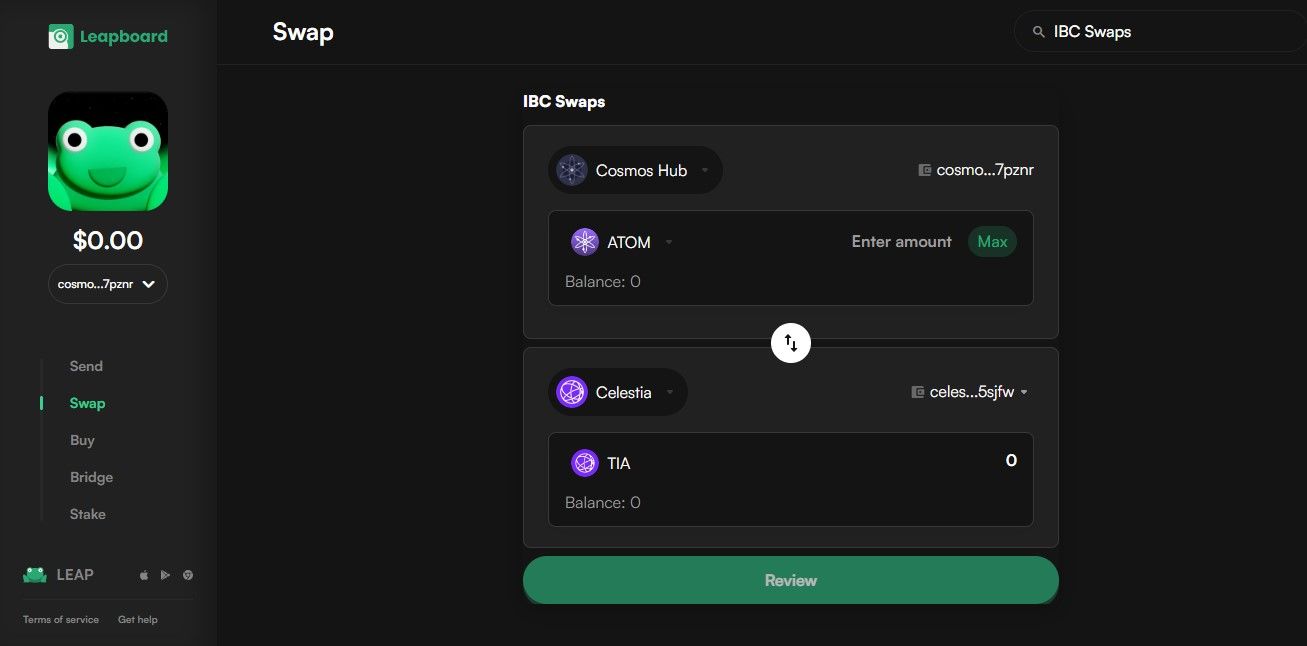 By default, Leap Wallet is connected to Cosmos Hub. You will need to switch to the Celestia chain if you choose to transfer $TIA from an exchange.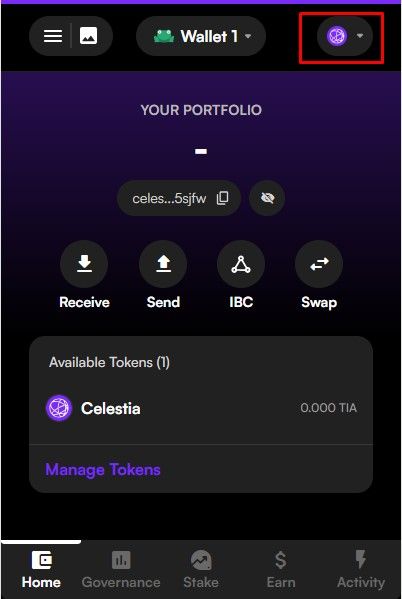 Step 3: Stake $TIA
After topping up your wallet, choose 'Stake.'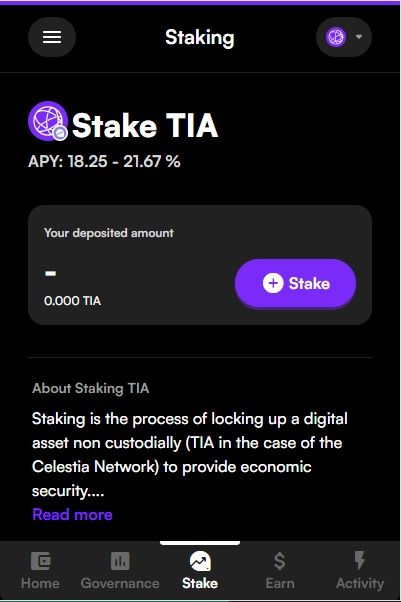 Select a validator to delegate your $TIA.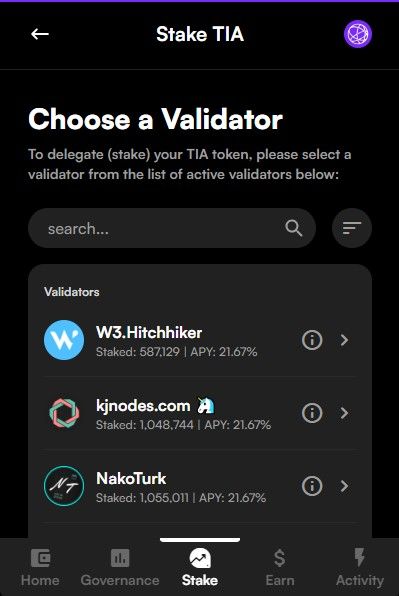 Enter your stake amount and click 'Review.'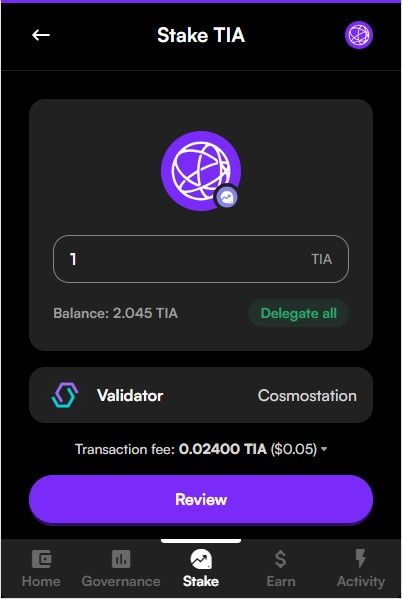 Review your transaction's details and click 'Stake TIA' when you're ready.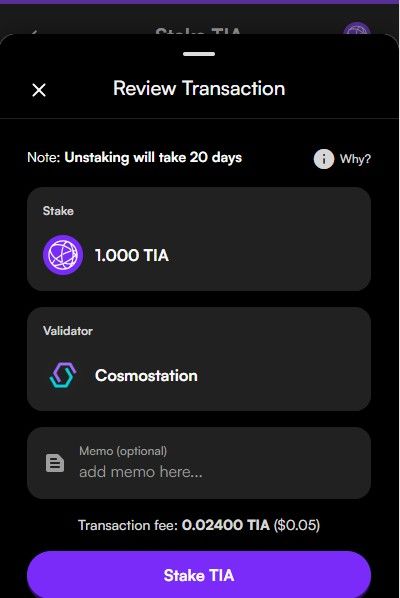 You've successfully staked $TIA with Leap Wallet. Navigate your dashboard to overview all the information about your balance and staked amount.
If you decide to unstake your $TIA token, you will need to wait for 21 days. You will need to select the validator and then unstake your tokens.