Introduction
Most beginners find it difficult to differentiate between Coinbase Exchange and Coinbase Wallet. Coinbase exchange is simply the platform's website where digital assets are traded, and can also be converted to fiat currencies, whereas,  Coinbase wallet is used to safe keep your digital assets.
Although exchanges have wallets, mostly web-hosted wallets on the website, however, to access your wallet, you must create an account with the exchange and sign in. On the other hand, a cryptocurrency wallet runs on a program that allows an investor to store all their cryptocurrency. Investors can either opt for a hot wallet or a cold wallet. While a hot wallet stays online, a cold wallet stays offline.
Most investors prefer cold wallets since they are safer from hacking and other security risks.
We've also written a guide for you on how to add Fusion to your MetaMask wallet!
Coinbase Wallet (Brief Overview)
Coinbase wallet is a very safe platform to store your digital assets.  It stores cryptocurrencies in "hot storage," which means your digital asset is connected to the internet. You can store more than 44,000 digital assets safely, interact with decentralized applications, and manage Ethereum-based NFTs.
Coinbase Wallet supports Bitcoin, Ethereum, Binance Smart Chain, Dogecoin, Litecoin, Polygon, Stellar, and Ripple networks, as well as a number of Ethereum Layer-2 solutions, such as Arbitrum and Optimism.
Coinbase Wallet offers both mobile and desktop experiences. If you intend to use a mobile device to explore the wallet, just download the app to your smartphone to get started. And for your desktop version, Coinbase Wallet has a Chrome extension you can easily attach to your chrome browser.
You can also link your Coinbase Wallet to your main Coinbase account, providing ease and security in funding your wallet and deepening your crypto journey with Coinbase.
Getting Started
In this article, we'll be bringing you basic how-tos on transferring your assets from Coinbase wallet to Billance.
As the popular saying goes, "One of the best ways to understand crypto is to try it out." Remember, the first step in making a transaction is setting up an account if you don't have, or by signing into your account if you have one already.
To get registered with Coinbase Wallet, kindly follow this guide. We've also provided a comprehensive guide on how you can register with Billance via our web platform.
For more information about Billance Exchange, you can consult with some of the works we've done via the links below;
How to transfer from Coinbase Wallet to Billance
To transfer crypto assets from Coinbase Wallet to Billance, you need to copy your choice crypto asset address from Billance and then paste it onto your Coinbase Wallet.
💡
When getting your crypto address from Billance, make sure the address is on the same network registered on Coinbase Wallet.
How to get your Crypto address from Billance
On the home page, click on [Wallets]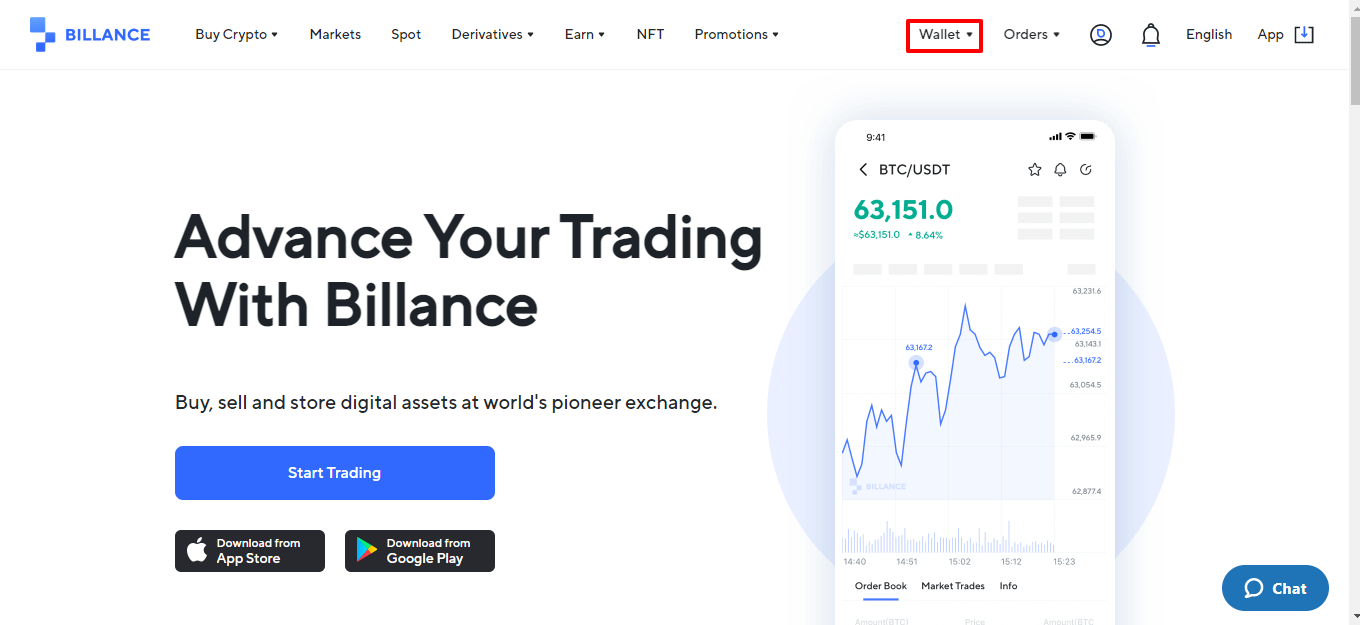 2. After clicking on [Wallets], scroll down and click on [Deposits]. You'd be directed to another page where you [Create Address] for your crypto asset.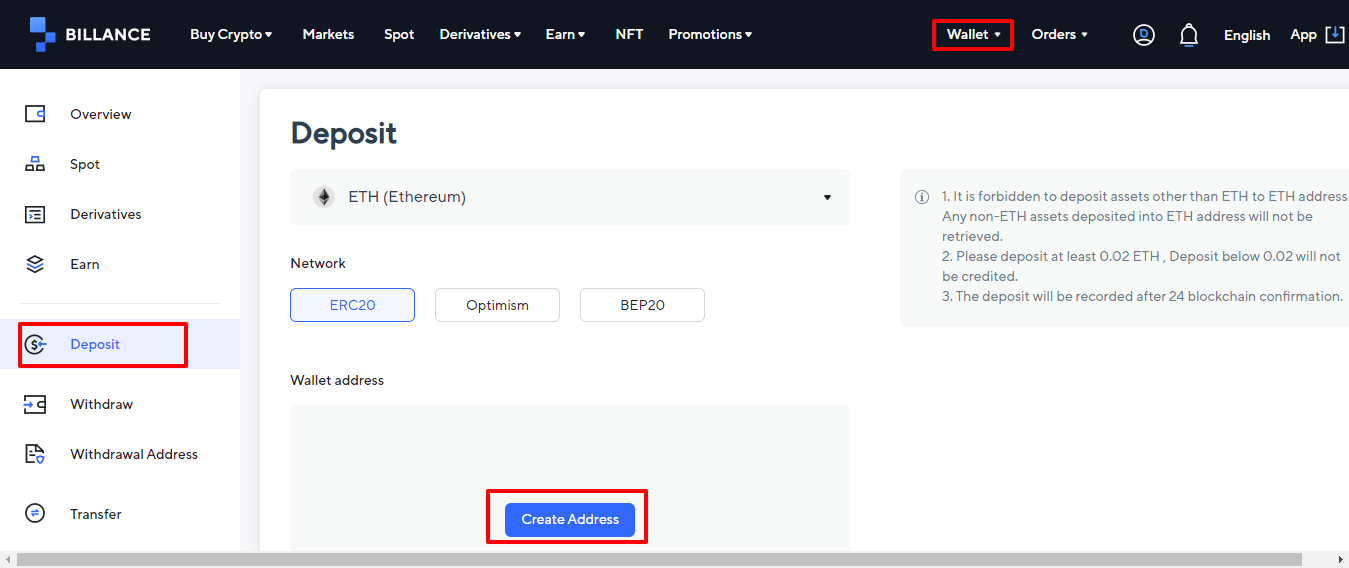 3. After clicking on [Create Address], an address is generated which you must copy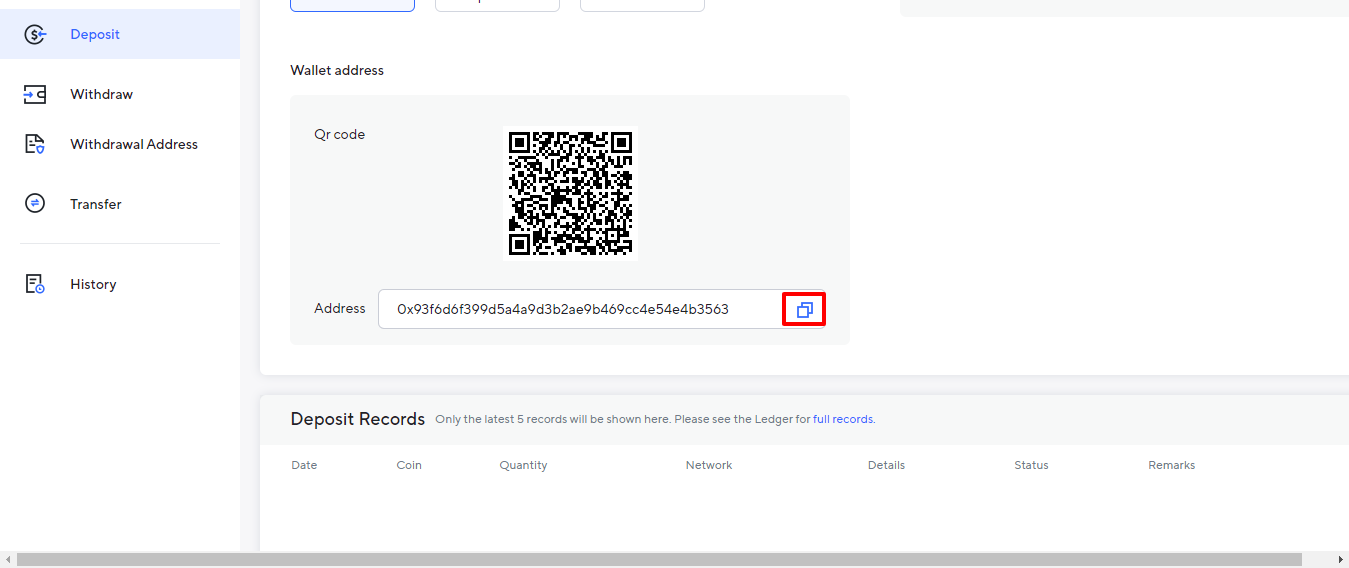 4. Copy your crypto address, and head on to your MetaMask Wallet to paste your address.
How to Paste your Crypto address into your Coinbase Wallet
The first step to getting started with Coinbase Wallet is by funding your account. This guide will show you how to fund your Wallet. After funding your account, you can convert it to any digital asset of your choice.
To paste your crypto address from Billance,
Open the Coinbase Wallet app.
Tap Send.
3. Enter the amount you'd like to send and select the asset you'd like to use.
4. Tap Next.
5. Tap the  QR code or enter the exact recipient address.
💡
Please note that you'll be charged Network fees for every transaction made. So, when executing transactions, ensure there's enough fund to accommodate the transaction.
Network fees
Network fees are paid to the miner for processing crypto transactions and securing the network, hence, these fees do not go to Coinbase. For instance, if you're sending an ERC-20 token, you'll need enough ETH in your wallet to accommodate a miner's fee so that your transaction can be processed and confirmed on the Ethereum blockchain.
Conclusion.
When you buy digital currency on an exchange, you have the option to leave the "keys" to your coins in your exchange's account. This is one way to store your coins. But you can also move them to a personal crypto wallet, which could either be a software  ("hot wallet") or a hardware (cold storage).
Coinbase wallet is exceptional for a cryptocurrency wallet.  Despite the limited support for digital currencies, the wallet supports other wallets and fiat currencies. It is easy to use Coinbase wallet and has the safest utility compared to any other wallet which makes it one of the best cryptocurrency wallets.
Popular Tags : Coinbase Wallet to Billance, Coinbase Wallet, Coinbase Exchange