This guide will provide you with the best staking exchange platforms for Avalanche AVAX Tokens. It will cover, how to stake AVAX to earn up to 18.90% interest in passive income using custodial staking platforms.
Instead of just holding AVAX tokens on an exchange like Binance, or Coinbase or on a hardware wallet like Ledger, you can stake your tokens and start earning interest.
What is staking in crypto?
If you are a beginner at staking cryptocurrencies, then it is a good time to know a bit about what staking is in blockchain and how you can earn passive income from it.
Staking is simply locking your crypto assets for a certain period of time in order to support a blockchain network. In return for staking your cryptocurrencies, you're rewarded with more cryptos. Staking usually occurs via a "staking pool" and it's available for cryptocurrencies that use the proof-of-stake model to process payments. Staking your cryptocurrencies can be a great way to generate passive income as some cryptocurrencies offer high-interest rates for staking.
So, let's jump into this beginner's guide to AVAX staking using exchanges and show you how you can start earning interest on your AVAX tokens.
Also interesting our article on the topic of the best staking platforms for Polygon.
Our Top 5 avalanche staking platforms
Here is a quick overview of our top five picks for avalanche staking, continue reading to see all the platforms.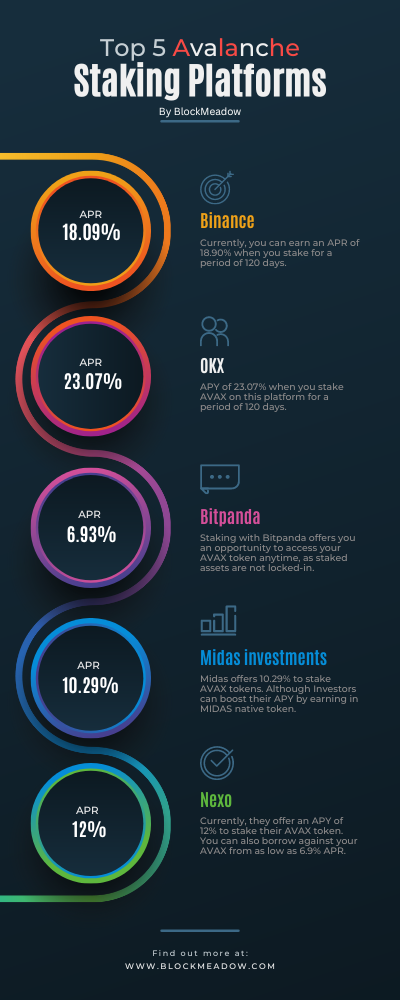 8 Best Exchanges to Stake AVAX
We have put together the 8 best exchanges to stake AVAX tokens in 2022. Staking AVAX tokens is a great way to earn passive income, but AVAX can be very volatile like all crypto assets.
Before you choose your method/platform of staking AVAX tokens and making any investment, please do your own research, as staking crypto does come with risk.
1. Binance
Binance launched AVAX staking on the 8th of February 2021 with an APY of 32.79% at the time of launch. Currently, you can earn an APR of 18.90% when you stake for a period of 120 days. Staking AVAX on Binance comes with a staking fee of 45%.
Below is a list of different APRs you can earn when you stake AVAX on Binance.
Binance AVAX Staking rates
Staking Verdict
Staking AVAX is a reliable way of generating yields on your AVAX tokens. A benefit of staking on Binance is that you can easily monitor the performance of your token.
2. OKX
OKX Exchange offers a variety of financial services ranging from staking, to trading and loaning services. The Seychelles-based exchange is widely available to users worldwide but notably not available in the United States. The Exchange listed AVAX  tokens on their platform for the first time on the 3rd of February, 2021. Currently, you can earn an est. APY of 23.07% when you stake AVAX on this platform for a period of 120 days.
Below is a list of different rates you can earn when you stake AVAX on OKX.
OKX AVAX Staking rates
Staking Verdict
Staking AVAX on this platform is easy and comes with the regular risk associated with staking cryptocurrencies, which is its volatility. Its est. APY is one of the biggest compared to custodial platforms like crypto.com and Binance.
3. Bitpanda
The Avalanche token was officially listed on Bitpanda on the 2nd of Feb. 2021 and was listed for staking on the 3rd of August this year (2022), at an APY of 6.93% and the price has remained the same till the time of this writing.
Staking with Bitpanda offers you an opportunity to access your AVAX token anytime, as staked assets are not locked-in. Investors can also start earning from the moment they stake their crypto, with no waiting period compared to other Exchanges.
Bitpanda AVAX staking rate: 6.93% APY
Staking Verdict
Please note that all cryptocurrencies tend to vary widely and strong price fluctuations may affect the income you earn. Hence, you should stake the number of tokens you can afford to lose. Also, staking with this Exchange affords you the opportunity to withdraw your token whenever you wish, so as to further manage risks.
4. Midas Investments
Midas offers 10.29% to stake AVAX tokens. Although Investors can boost their APY by earning in MIDAS native token. So averagely, you may be having an initial APY of 10.29% and after the boost, you can be having up to 12.9% APY.
AVAX token was initially listed on the Midas investment platform on the 19th of October, 2021 with an APY of 17%.
Currently, Midas investments have the following interest rates on the AVAX token, which depend on the Lock-in level of the user:
Basic lock-in – 10%
Gold lock-in – 12%
Platinum lock-in – 14%
Diamond lock-in – 17%
Staking Verdict
To further earn beyond your stipulated reward, you can deposit more MIDAS tokens on your account, which becomes an added advantage. Although to stake with the platform, you're required to upgrade your verification to a more advanced level. Compared to other Exchange that offers a single staking rate, Midas offers a wider range of staking options.
5. Nexo
Nexo initially listed AVAX on their platform for staking at an APY of 17% in January 2021, and it later dropped to 14% APY by February. Currently, they offer an APY of 12% to stake their AVAX token. You can also borrow against your AVAX from as low as 6.9% APR.
You can easily top up and start earning Avalanche interest right away. The specific rates for each Loyalty tier are described below:
Platinum: Маximum rate – 17%. Standard rate – 12%.
Gold: Маximum rate – 16%. Standard rate – 10%.
Silver: Маximum rate – 13.50%. Standard rate – 8.75%.
Base: Маximum rate – 13%. Standard rate – 8%.
Staking Verdict
This platform also requires that you have a NEXO token if you'll advance from the standard rate to the maximum rate. Most importantly, your account must be verified before you can stake any token of your choice. Basically, we consider Exchanges like Nexo that offers a wider range of staking option way better than those with a single staking option, as you can choose from any level more convenient.
6. Bitrue
Bitrue provides complete financial services ranging from providing safe, convenient, and diversified services to meeting all crypto needs, including trading, investing, purchasing, staking, and borrowing.
Staking at Bitrue requires that you sign up and make sure you have some coins deposited in your account. The minimum amount of AVAX tokens to be staked is 10 AVAX, with no lock-up time frame. This means that you can withdraw your assets whenever you wish. They offer 20.18% APY  to stake AVAX tokens.
Bitrue AVAX staking rate: 20.18% APY
Staking Verdict
The platform made it clear that Estimated APYs may change at Bitrue's discretion. This in most cases would be towards the direction of market conditions in order to sustain the network's proficiency. Although the minimum staking amount is quite high, compared to other Exchanges, they've offered the highest rates so far.
7. Huobi
Staking through Huobi Exchange does not attract any fees, and the process is not complicated as the only thing required from you is that you hold your PoS tokens on the Exchange, which takes care of all the technical requirements of maintaining the network.
The minimum deposit of AVAX needed to be made in your Exchange account is 0.0172 AVAX in order to initiate staking your token on the platform. Staking duration is flexible meaning that you can withdraw whenever you wish. The Exchange offers high earnings without additional fees, as Huobi Global shares the revenue from validator rewards.
Huobi AVAX staking rate: 6.30% APY
Staking Verdict
Huobi staking product is quite easy to use. With the Exchange, you can stake your tokens in a couple of clicks, without the intricacies of an on-chain wallet.
Also, you don't have to worry about losing your tokens, since the Exchange oversees token storage. However, do note that the APY will fluctuate according to actual income.
8. CEX.IO
CEX.IO is an ecosystem of financial services that allows customers to engage with the decentralized economy from various aspects. This Exchange offers up to 5% APY when you stake your AVAX token, within a flexible time frame. This means that you can withdraw your token whenever you wish.
In addition to this, you can also trade your staked tokens, with your rewards calculated as long as your tokens remain in your CEX.IO account, even if you place an order. Currently, rewards are calculated every hour and are sent to your account once a month.
CEX.io AVAX staking rate: 5% APY
Staking Verdict
CEX.io goes beyond most Exchanges by including features that allow users to trade their staked tokens. The Exchange's interface is intuitive and registration is within a few clicks. Generally, we believe the trading feature added to your staking activity gives this Exchange an edge over others. Apart from that, the APY rate isn't competitive compared to Exchanges like Binance and Bitrue.
Final Thoughts
Staking AVAX is a reliable way of generating passive income on your AVAX tokens. As we're gradually migrating towards adopting PoS chains it is important that you're well informed about the custodial means of staking your tokens. Staking rewards will play a crucial role in generating yields from and maintaining a network, hence the reason for its growing adoption. If you are looking to stake on a non-custodial platform then subscribe to our newsletter for our upcoming post on best avalanche validators for staking.
Popular Tags : best staking exchange platforms for Avalanche AVAX Tokens, AVAX staking, Avalanche staking, AVAX tokens, Binance AVAX Staking rates, OKX AVAX Staking rates