Buckle up we are going to review, install and explore the crypto wallet products and if you are here to find out which is the best crypto wallet for your precious NFTs then read on!
Introduction
Cryptocurrency wallets are primarily used to store both public and private crypto-keys. They also provide a user-friendly interface for managing crypto balances, transferring cryptocurrencies through the blockchain, and in many instances, interacting with dApps.
In this article, we walk you through a run-down of the best cryptocurrency wallets, their unique features, their pros and cons, and a brief guide on how you can install these wallets.
But before we delve into these lists, we'd guide you through some basic concepts about cryptocurrency wallets.
What is Crypto Wallet?
Technically, your crypto assets are not stored in a crypto wallet. They're stored on the blockchain but can only be accessed using a private key. Your keys are the proof of ownership of your crypto assets and they provide you access to make transactions on your wallets. That is why the need for a trusted wallet provider cannot be over-emphasized.
A cryptocurrency wallet is a program that stores the public and/or private keys for cryptocurrency transactions. These programs are usually available on both mobile and desktop devices, and they require an internet connection to access the blockchain network. Apart from storing your public/private keys, they also allow you to send and receive cryptocurrencies and also interact with dApps.
List of best Crypto Wallets:
Below is a comprehensive list of the best crypto wallets. Please understand that this is not a summary of the entire crypto wallets available. We encourage you to intermittently return to this article as there would be a continuous update on the list to give you a broader view of making your choices.
1. MetaMask
MetaMask is a software cryptocurrency wallet used to interact with the Ethereum blockchain. Users can access their wallets through a browser extension or mobile app, which can then be used to interact with decentralized applications.
MetaMask supports over 450,000 coins on the Ethereum ERC-20 protocol and multiple protocols across blockchains like BNB Chain, Polygon, Avalanche, and several other test blockchains. Users can also store NFTs in their wallets and connect them with their desired marketplaces.
Pros
MetaMask is easy to download and set up across devices. You can start by creating a wallet, then import it across devices using the 12-word seed phrase.
It has an automatic account back-up
Easy to use and user-friendly interface and design
Cons
MetaMask lacks a native bridge that allows for the transfer of cryptocurrencies across different chains. For instance, if you have a coin on the BNB Chain, you cannot transfer it to a wallet on the Ethereum chain because they are incompatible.
Equally susceptible to threats associated with most hot wallets.
How to install MetaMask?
MetaMask Wallets are available on both IOS and Android devices, and with all four major browsers (Chrome, Firefox, Brave, Edge). You can install MetaMask extension using the official website or you can go directly to Google chrome web store.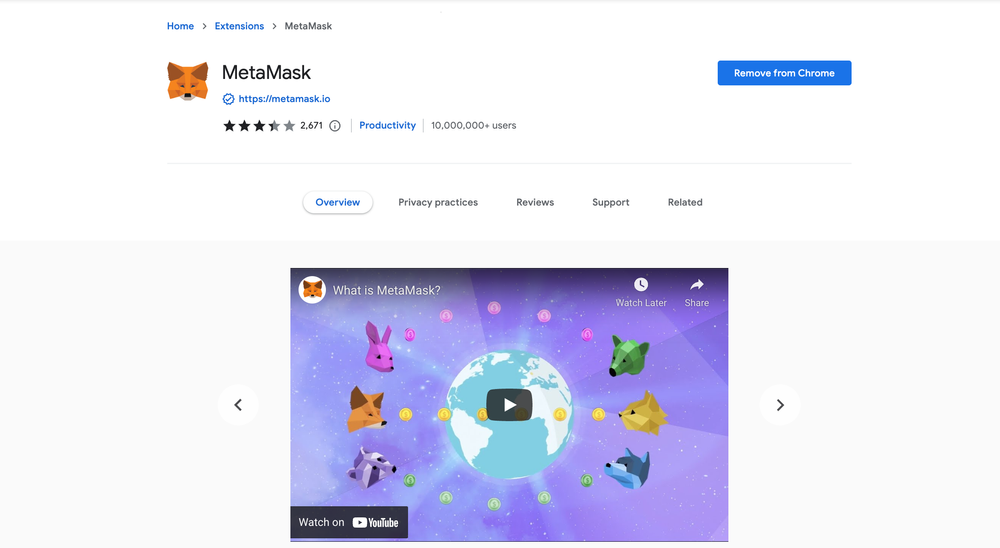 Click the [Add to Chrome] button & you should have your wallet installed.
Once you've installed MetaMask, it will appear as an extension and can be easily accessed through "Settings" on Google Chrome where you can pin the wallet extension for ease of access.
2. Trust wallet
Trust Wallet is a software cryptocurrency wallet that allows you to trade various cryptocurrencies. It has multicoin support that enables you to purchase and swap thousands of digital assets across blockchains. Users can purchase different cryptocurrencies through third-party providers like Mercuryo, MoonPay, Ramp Network, Simplex, and Transak.
Trust Wallet also allows users to earn interest on their cryptocurrency by staking directly from their wallet. several tokens are currently available for staking, including BNB, Cosmos, and Tezos.
Pros
Ease of purchasing and staking cryptocurrencies from different providers, with interest-earning staking available.  
Trust wallet is convenient and easy to set up and use on your mobile devices. And your account can easily be restored using a 12-word secret phrase.
Trust Wallet supports over a million cryptocurrencies and NFTs on several blockchains, including Bitcoin, the Ethereum Main blockchain, and the BNB Chain.
Cons
The application does not have desktop support.
Equally susceptible to threats associated with most hot wallets.
You can hardly recover lost accounts through customer support.
How to Install trust Wallet
Download the app from google play, and create a new wallet (if you're using the app for the first time)
Accept terms of usage
Save recovery phase
Verify your recovery phase and your Wallet is ready.
3. Coinbase
Coinbase Wallet is a free digital wallet that supports a wide variety of cryptocurrencies and it comes with a built-in browser for decentralized apps. Users can securely store over 44,000 digital assets, interact with dApps, and manage their Ethereum-based NFTs. You can earn up to 5.75% APY on your staked cryptocurrencies. Staking and DeFi yields are available in over 70 countries globally. DeFi yield is only available outside the U.S.
Pros
The app is beginner and user-friendly.
Supports a large number of crypto assets across multiple blockchains.
The decentralized wallet does not charge any wallet fees, only blockchain network fees.
Since the wallet is non-custodial, only users have access to their wallet's private keys. Hence, attackers would not be able to access users' funds if Coinbase's servers are compromised.
It also has a browser extension.
Cons
Coinbase code is not open-source.
Can't retrieve lost accounts as other smart contract wallets can.
Equally susceptible to threats associated with most hot wallets.
Limited number of supported coins when compared with wallets like MetaMask and Trust Wallet.
How to install Coinbase Wallet
Download the mobile app if you haven't already.
Select "Create a new wallet".
Review and accept the Privacy Policy and Terms of Service.
Pick your username. This is how other Wallet users can find you and send you payments.
Set your username privacy preferences.
Choose your preferred security method, biometrics, or passcode.
Back up your recovery phrase.
Re-enter your phrase in order to confirm your backup. With all these steps completed, your Coinbase Wallet is ready!
4. Exodus
The Exodus wallet is a digital asset management system that allows users to store, manage and exchange cryptocurrencies. You can manage multiple portfolios, stake and buy crypto, view your NFTs, and explore Web3 on both your Android and iOS devices. The software is also free to download on Windows, macOS, and Linux systems. It supports over 235 different kinds of cryptos and NFTs and is also integrated with the FTX crypto exchange, allowing users to trade directly from their wallets.
Pros
Exodus is a user-friendly and easy-to-use wallet.
It has built-in portfolio and trade Functions that make it easy to swap one cryptocurrency with another and keep track of profits or losses on the wallet.
Their fees are adjustable making it easier for beginners who are not confident with determining transaction network fees.
Cons
It does not have security features like multi-signature support or two-factor authentication.
Equally susceptible to threats associated with most hot wallets.
It does not support crypto-to-fiat transactions.
The wallet lacks custom network fees for altcoins.
How to Install Exodus Wallet on Windows
Go to Exodus.com, and on the right corner click on 'download'.
On the next interface, click on 'download' under the desktop section and select the windows version of the install file most appropriate to your device. Allow the install file to run.
Click 'Ok' after the install file has been successfully run.
You can add the desktop app to your home screen.
Ensure to back up your 12 word recovery phase in any case of a lost wallet or device.
5. GameStop
GameStop Wallet is a self-custodial Ethereum wallet that gives you full control of your cryptocurrencies and NFTs. Designed with Layer 2 technology, it allows you to trade assets and collectibles across multiple networks at low fees. You can store, send, and receive NFTs and also connect easily to the GameStop NFT marketplace, and trade NFTs anywhere.
Pros
It offers L2 support via Loopring.
Offers an in-wallet swap system.
Offers direct support for hardware wallets.
Cons
It lacks widespread direct dApp support.
You can not retrieve lost accounts like smart contract wallets.
Only supports two chains currently.
How to Install GameStop Wallet
To create a GameStop Wallet, you need to download the Chrome Extension from the GameStop Wallet website. You'll want to then make sure it's turned on and active in your Google Extensions settings.
Open the extension and select 'Create Wallet,' you will be prompted to enter a secret phrase. Since this is the only way to recover your wallet, consider writing it down somewhere secure.
After you've completed the above steps, your GameStop Wallet is successfully created!
6. Keplr Wallet
Keplr is a non-custodial wallet for the IBC (Inter-Blockchain Communication) ecosystem. For now, it is designed for mobile and desktop devices, exclusively for the Cosmos ecosystem. The wallet allows users to interact with DApps in the Cosmos ecosystem. Currently, the Keplr wallet has integrated more than 20 blockchains based on the Cosmos SDK. It also allows users to stake assets on the respective chain.
Pros
The wallet is usable with all IBC assets including Cosmos, Terra, and Cronos.
You can stake coins using Keplr to earn significant rewards.
The wallet is compatible with the Ledger hardware wallet for enhanced security.
Cons
No support for non-IBC coins like Bitcoin or Ethereum.
There's limited NFT support.
Not available for Firefox or Safari.
No Desktop version.
How to Install Keplr Wallet
Go to Keplr's Extension download for Chrome and click [Add to Chrome].
Select [Add extension] to automatically add to your Chrome browser.
Select the puzzle icon on the top right of your Chrome browser and then select the Keplr pin to have the Keplr icon visible in your browser.
Right-click on Keplr and select [Manage extension] and then next to Site access, make sure [On all sites] is selected.
Next, you'll need to create an account to access the wallet's features.
7. Phantom
Phantom wallet is a non-custodial Web3.0 wallet that offers a simple and secure way of interacting with multiple blockchain networks in the Solana blockchain. It has a built-in exchange that lets you swap tokens on the Solana ecosystem. Phantom also supports NFTs and collectibles thereby making it easy for users to both collect and view their NFTs in the app. The wallet stores your private keys on your device thus giving you complete control of your funds. It is compatible with several browsers including Chrome, Firefox, Edge, and the Brave browser.
Pros
The wallet benefits from Solana's extremely low fees.
As a non-custodial wallet you retain custody of your private keys.
It supports hardware wallets such as Ledger for added security.
Cons
The wallet is limited to the SOL ecosystem which means there's no support for mainstream cryptos like Ethereum and Bitcoin.
The wallet is susceptible to threats associated with most hot wallets.
How to Install Phantom Wallet
Go to the Phantom website or the Google Chrome extension store or Firefox extension.
Click on the Add to Chrome/ Add to Firefox button.
Click on Phantom Wallet extension.
Click on Phantom Wallet extension.
Kindly store your secret recovery Phrase or Mnemonic.
Create a password for your wallet, confirm the password and your wallet is ready.
8. Guarda Wallet
Guarda is a non-custodial multiplatform cryptocurrency wallet designed to store, manage, buy, exchange, and stake cryptocurrencies. It currently supports over 50 major blockchains with over 400,000 cryptocurrencies. The wallet is available on the Web, Desktop (Linux, Windows, macOS), Mobile (iOS, Android), and Chrome Extension versions. Users can earn interest on their crypto holdings via staking, exchange of coins and tokens, and taking out crypto loans.
Pros
Accepts credit card purchases.
Features built-in exchanges.
Multi-currency support.
Cons
Transaction fees in making crypto purchases are usually very high.
The wallet is susceptible to threats associated with most hot wallets.
Guarda Wallet is a light wallet, which makes users unable to run full nodes with the software.
How to Set up Guarda Wallet
Although setting up Guarda Wallet differs for each platform, the principles are similar;
Download the wallet software
Back up your wallet using the wallet-generated seed phrase
Secure the wallet with a password
9. Cake Wallet
CAKE Wallet is an Open-Source iOS Wallet for Monero, it accesses blockchain transactions without having to run a full node. It is designed to help individuals manage and conduct Monero, Litecoin, and Bitcoin exchanges. It is known to be one of the first open-source Monero crypto wallets.
Pros
Has a built-in exchange feature.
You can buy BTC directly in the app.
Create multiple wallets and accounts.
Back up your wallets locally or to the cloud.
Connect to remote nodes of your choice.
Cons
One of its limitations is that it must first synchronize with the Monero Blockchain before use.
The wallet is susceptible to threats associated with most hot wallets.
The wallet is yet to have a desktop version.
How to Install Cake Wallet on Your PC
Since some apps are developed only for the mobile platform, android emulators allow us to use apps on your PC. So even if the official version of Cake Wallet for PC is not available, you can still use it with the help of Emulators.
For your mobile Cake wallets, they're all available on both Apple and Google playstore.
10. Feather Wallet
Feather is a free, open-source Monero wallet for Linux, Tails, Windows, and macOS. A 100% community-sponsored project created by dsc, tobtoht, and contributors. The code is free and open-source, licensed under BSD-3.
Pros
Provide an easy-to-use graphical wallet that runs on any modern hardware.
The software is beginner friendly and also caters to advanced Monero users by providing a feature set that is on par with the official CLI.
Serves as a testing ground for experimental features that may later be adopted in the reference wallets.
Cons
The wallet is only available on desktop devices.
The wallet may be too technical for a crypto beginner.
How to Install Feather Wallet
Download the latest Windows installer from featherwallet.org/download.
After the download is complete, run FeatherWalletSetup.exe.
Follow through the screens in the setup wizard.
Click 'Finish' to start Feather Wallet.
11. Monerujo
Monerujo is one of the first apps for managing and using Monero wallets on Android. A light wallet that utilizes remote nodes for synchronizing to the Monero blockchain while keeping all your private data on your device. Although the Monerujo app is not the official mobile app for Monero, rather it is a community-developed open-source mobile app. Since Monerujo is a multi-account crypto wallet, there is no limit to the number of user accounts and wallet addresses that can be created and hosted on the Monerujo wallet.
Pros
Monerujo is a multi-account crypto wallet which means there is no limit to the number of user accounts and wallet addresses you can create and host on the Monerujo wallet.
Monerujo allows you to pay into a Bitcoin address directly, without going through a crypto exchange.
Monerujo is a light wallet that doesn't require you to download the full node blockchain into your phone.
Monerujo integrates Ledger Nano S which, in turn, supports over 1000 cryptocurrencies and tokens.
Cons
Downloading the application can be time-consuming sometimes.
Monerujo is an Android only crypto app.
How to Install Monerujo Wallet
Head over to Google's Play store to download the Monerujo wallet app and launch it for the first time. You'll be presented with a screen that allows you to create a new wallet or restore an existing wallet.
Tap on the "create a new wallet" icon and enter a name for the wallet. Then you tap the button that says "Make me a wallet already!" You can set a password if you want, but it's optional.
After creating your wallet a screen appears with critical information like your mnemonic seed, your private key (spend key), and your public key (view key). You may need to write them down and store them in a safe place as these are all the key things you need to transact and restore your wallet whenever necessary.
Finally, tap the button that says "I have noted the mnemonic seed" and you'll be taken into your new Monerujo wallet.
12. Edge Wallet
Edge Wallet initially called Airbitz is a cryptocurrency software that allows users to easily control their own private keys. Edge Wallet provides maximum security allowing all types of users to easily manage, transfer & exchange their currencies. All data are encrypted on your phone before being sent to the servers. This ensures that the company cannot access your account information and that even if the servers are hacked the risk of your information being compromised is mitigated.
Pros
The wallet is easy to set up and has a user-friendly interface.
Seamless In-app crypto purchases and exchange.
You can earn interest on your Staked crypto.
You can also buy gift cards through the app using crypto.
Very secure and private for a software wallet.
Cons
It's available only on mobile devices.
Limited number of cryptocurrencies supported.
Cannot hold fiat currencies in a wallet.
How to Install Edge Wallet
Go to the App Store (on iOS) or the Play Store (on Android) and search for "Edge wallet".
Install the app, create a username and password, and register your account.
13. ZenGo Wallet
ZenGo Wallet is a hybrid of a custodial and non-custodial cryptocurrency wallet that utilizes threshold signatures to create two 'mathematical secret shares'; one stored on your mobile device, the other on their servers. You can buy, trade, send and receive crypto directly from the ZenGo wallet. It supports a wide variety of cryptocurrencies with over 70 coins and tokens.
Pros
User-friendly interface.
ZenGo has live 24/7 customer support that can be reached via email, live chat, or social media.
Strong security with 3-FA which protects ZenGo users.
No need for private keys thereby eliminating the risk of a single point of failure, key hacking/phishing.
Cons
Although ZenGo is available in 188 countries yet some features are available only in certain locations.
You have to store Keyless Recovery Backup on iCloud or Google Drive.
The app is not fully non-custodial.
How to Install ZenGo App on your PC
You will need to Install an emulator on your PC.
Complete the installation of the emulator by following the on-screen instructions.
You will be asked to provide your Google ID. You can create one if you don't have.
Open the Playstore app from the home screen of the emulator.
Search for the ZenGo app and click on the install button.
Now the ZenGo app will download on your PC and you can use it for free.
14. Moonlet Wallet
Moonlet is a non-custodial blockchain agnostic cryptocurrency wallet that allows you to store and secure all your ERC-20 tokens, Ether and Zilliqa. With the wallet, you can store, send and receive cryptocurrencies and connect to other hardware wallets.
Pros
They're in partnerships with hardware wallets like Ledger, Mobile Keystore, or React Keychain.
The wallet supports multiple blockchain networks.
You can manage, stake, and send crypto assets from all devices.
Cons
There's no desktop version of the wallet, hence unsuitable for users who find the desktop interface more convenient.
How to Install Moonlet Wallet
You can either use the website moonlet.io or search for "Moonlet" within AppStore or Google Play.
If you're using the website moonlet.io, tap on AppStore or Google Play.
Install the app from the store.
Allow Bluetooth permission.
Allow notification permission.
You can either 'create a new wallet' or 'add an existing wallet'. To create a new wallet;
Go to the home interface and tap "Create"
Read terms of service and privacy policy and "Accept"
Write down your secret phrase and keep it in a safe place.
Confirm secret phrase
Setup PIN code
Verify PIN code
15. Zillet Wallet
Zillet is a free and open-source client-side interface that interacts directly with the blockchain, while still having full control over your keys and funds. The core of its design is to provide security and anonymity. It is a trusted Proof-of-Stake infrastructure provider and validator to conveniently stake your coins and earn rewards with Zilliqa. It also has features that allow you to connect to a hardware wallet.
Pros
They have integrations with Koinly, Ledger, Moonlet, Zilliqa, and ZilPay Wallet.
You can stake various cryptocurrencies and earn rewards with Zillet wallet.
Cons
Being a SaaS wallet, it's not beginner-friendly.
Does not have support for mobile devices.
How to download Zillet Wallet
Ensure to record the private key and passphrase somewhere safe. These are needed to restore the wallet in the future when necessary.
Go to https://zillet.io/create.
Select an option for a type of wallet to create.
Enter a strong password.
Click the "Create New Wallet" button.
Download and safely save your Wallet File.
16. Crypto.com Wallet
Crypto.com DeFi Wallet is a non-custodial wallet that allows users to safely store their crypto in a highly secure environment with their private keys. The wallet supports over 78 cryptocurrencies including Bitcoin, Ethereum, DeFi coins like Uniswap, Compound, yearn.finance, and other ERC20 tokens. The wallet is available for both Android and iOS devices. You can download and connect the Crypto.com DeFi Wallet with the app to easily access the diverse crypto financial services offered by Crypto.com.
Pros
It offers a user-friendly and secure way to access and explore DeFi projects.
The wallet is integrated with WalletConnect, allowing users to connect with DeFi Swap and other DApps by scanning the QR Code.
It is secure, decentralized, convenient, and flexible, and is protected by Passcode, Biometric Authentication Technology, and 2-Factor Authentication.
Cons
Full set of features are not available to all countries or users.
Their fees are usually high unless you're holding CRO.
How to Install Crypto.com wallet Extension
Search for "Crypto.com wallet extension".
Get the zip file downloaded and move on further.
Get into the "Admin Panel" of your device.
Head to "Extensions" and then go for "Installer".
Upload the downloaded zip file on the installer page.
Head back to "Extension"> "Choose"> "Payments".
And conclude the procedure with the "Install" key.
17. Blockchain.com Wallet
Blockchain.com wallet is a non-custodial e-wallet, which means it can be digitally accessed through software in your web browser or through an app on your phone. It supports four different types of cryptocurrencies which are; Bitcoin (BTC), Ether (ETH), Bitcoin Cash (BCH), and Stellar (XLM). It can be used to send and receive digital currency transactions, as well as swap between different cryptocurrencies. Users can access their wallet with a private key, a recovery phrase known only to the user.
Pros
The wallet app is compatible with both Android and iOS devices.
Users are allowed to pair their device with an existing wallet they already have, or create a new wallet directly on their phone.
Cons
There's no integration with any cold storage.
The wallet is not accessible to users from the United States.
Trading pairs are limited compared to Wallets like Trust and MetaMask.
How to set up Blockchain.com wallet
Go to Blockchain.com on your computer or smartphone and click on either Sign Up or Get Started.
click on Create Wallet.
Enter your email address in the space provided.
Enter a strong password, and confirm the password.
Select your country if it's not already selected automatically.
Review the information in the consent section and check the box when you're done.
Click Create Wallet.
18. SafeMoon Wallet
SafeMoon wallet is a secure place to store and trade your SafeMoon. Some of its features are multi-chain storage, fiat-on ramp integration, a contacts list, and a reflections tracker. It also has a feature that allows you to integrate your hardware wallet.
Pros
SafeMoon wallet has a fine user-friendly interface that will help you track the markets and make a well-informed decision about your crypto purchases.
The wallet is secured with biometric 2-layer security and Google authentication.
Cons
Only Ethereum purchases are supported.
Mobile version available only.
How to Install SafeMoon Wallet on your Mobile device
From the Google Play Store, open the Google Play Store on your Android device.
In the search bar, carefully type "SafeMoon wallet" and select the authentic SafeMoon app from the list.
Finally, click the "Install" button for the app that is developed by SafeMoon.
19. Gemini Wallet
Gemini Wallet is a digital cryptocurrency wallet supporting over 80 cryptocurrencies across eight blockchains. Gemini Wallet makes it very easy for users to purchase cryptocurrency and store it in their web-based hot wallet. Users can link their bank account or debit card to purchase tokens instantly. Other purchase options include ACH transfers, bank wire transfers, Apple Pay, or Google Pay. You can also earn interest on your investment through cryptocurrency staking with the wallet.
Pros
Trading is available on both web platforms and mobile apps.
You can insure against certain unauthorized withdrawals through private plans.
They now have a credit card that allows you to deposit or withdraw fiats directly from the platform.
Cons
Difficult to transfer cryptocurrencies to external wallets.
The wallet has a limited dApp interaction.
How to Set up Gemini wallet
The wallet is created as part of the account since it is cloud-based. Once the account is verified, users should be able to use their wallet to purchase and sell cryptocurrencies from the Gemini Exchange or send and receive cryptocurrencies to and from other wallets.
20. Nexo Wallet
Nexo Wallet is a digital wallet designed for storing Nexo assets and the keys to your Nexo Addresses. It helps to keep your digital currency safe, private, and in your control. The software is a well-established application service for making easy and feasible crypto transactions. It provides access to buying crypto, earning crypto interest, swapping between numerous tokens, and taking loans based on your account portfolio. Nexo wallet is available for Windows, OSX, Ubuntu, and other Linux-based operating systems.
Pros
Wide range of cryptos available.
High yield savings account.
Multi-signature confirmation for each transaction.
An impressive level of security with 2FA, pin-code, and Fingerprint support.
Cons
Higher rates for loans.
Does not have a browser extension.
How to Download Nexo Wallet
You can download the wallet from the Apple AppStore, or Google Play, or install a desktop wallet. You can also use an online wallet.
21. Thor Wallet
Thor Wallet is a non-custodial wallet that gives you full control over your keys with an integrated cross-chain Dex that allows you to swap native L1 coins across different blockchains with no intermediary. They offer Liquidity Providing, Cross-chain savings accounts, and Lending & Borrowing. The app also enables you to hold all your NFTs independent of their chain.
Pros
They offer Liquidity Providing, Cross-chain savings accounts, and Lending & Borrowing.
You can swap native assets, earn passive income (through liquidity providing or savings account), and store NFTs.
Cons
It does not have a browser Extension.
Customer support is not encouraging.
How to Download Thor Wallet
You can either go to https://www.thorwallet.org/, or access the app via google playstore or Apple store.
Search for the App and click on Install
If you're a new user, you can click on 'create wallet'. But for oluserser, you can 'add existing wallet'.
After creating your wallet, be sure to store your 12 word seed phrase in a safe place as it'll be your access to your wallet whenever there's need to recover lost account.
22. My Ether Wallet (MEW)
MyEtherWallet (MEW) is an open-source, client-side interface that allows users to interact directly with the Ethereum blockchain, without joining a centralized Exchange. It allows you to deploy and interact with smart contracts, create your unique Ethereum wallets, and send and receive ETH tokens. You can also swap a number of cryptocurrencies including ERC20 tokens, ETH, ETC, BTC, etc.
Pros
You can access a variety of wallet types, including the wallet mobile app, MEW CX browser Extension, MetaMask Chrome extension, and partnering hardware wallets.
You can also explore their DApp store where you earn on your deposits, register and manage your ENS domains.
Cons
No two-factor authentication (2FA) is employed as security measure.
How to Set up your MEW Wallet Account
Go to www.myetherwallet.com.
Click on "Create new wallet".
Enter a unique password.
You'll be taken to the "Save your Keystore file" screen. Download the Keystore file and store it on your computer.
Next, click the "I understand, Continue." button.
A grey screen is displayed that shows your private keys. Do well to store in a secured place.
Click the "Save Your Address" button.
Now with your address saved, your wallet is ready. However, your wallet will need to be unlocked each time you sign into it or whenever you wish to make a transaction. To unlock your wallet, you can either use the Keystore/JSON File or your Private Key.
Using Keystone/JSON File:
Click on the "Select Wallet File" box.
From here, go to the UTC JSON file that was downloaded during the earlier creation process of the wallet and open it.
Enter the password you used while creating your wallet.
Using your Private Key:
Select the private key option.
Enter your private key into the box and click "unlock".
23. Ethos Wallet
The Ethos Universal Wallet allows users to interact with their coins while tracking and monitoring assets on multiple blockchain. It offers users a complete view of their entire portfolio in one place, with rich analytics. With the Wallet, you can view, send and receive balances of any supported cryptocurrency. The wallet manager is entirely decentralized so that users have complete control over their private keys at all times and Ethos can't access funds without direct user authorization.
Pros
All transactions are completely user direct and there are no locks or limits.
The wallet is user/beginner friendly with over 15o supported cryptocurrencies.
You can generate a single Ethos Smart Key for each wallet instance you create, thereby enjoying automated maximum security management of all of your digital assets.
Cons
Like every other Wallet, it does not have the 2-FA authentication.
Users can not inspect the source code of certain features.
How to Install Ethos Wallet
Go to Google Play and get the Ethos app.
Generate an account plus a password for security.
The mnemonic phrase must be safely stored, as it's the only means for recovering a lost wallet.
24. Zerion Wallet
Zerion is a non-custodial DeFi wallet, which allows users to track and manage their DeFi and NFT portfolios, trade across over 10 networks, and connects to any decentralized application within one wallet. It also supports over 60 diverse protocols, allowing users to invest, lend, and borrow digital assets across the sector. Users can also track their assets in real time with push notifications and live price updates. With the wallet, traders can lend assets to earn interest, borrow stablecoins, buy/sell DeFi tokens, and share liquidity with different DEX pools.
Pros
Zerion supports most major Web3 wallets in addition to Zerion smart wallet. They include hardware wallets, mobile wallets, and browser extension wallets.
It also has pricing and historical info for all tokens, including newly added coins.
You can easily trade/swap within Zerion wallet.
Cons
Most exchanges incorporated with the wallet are unregulated.
Compared to other non-custodial wallets, Zerion is quite complex.
How to Set up Zerion Wallet
Go to zerion.io, and click on either 'create wallet' or 'Zerion on web'. This only depends on the kind of device you wish to access the app with.
For the web version; an interface pops up where you can either connect to a variety of wallets or create a zerion wallet.
25. Casa Wallet
Casa Wallet is a multi-signature bitcoin wallet that offers the best protection for private keys. It uses the Lightning Network technology that accelerates bitcoin transactions at high volumes and improves the transaction process. The digital wallet requires users to make three individual requests to transfer funds before any transaction is authorized. The wallet uses 5 unique access keys that should be stored in five different locations.  One of these will be on the users' phone and Casa will keep one for emergencies. The rest of the three keys are to be stored in a safe place e.g., at the home, office, or at a bank's safety deposit box. No two keys should be kept in the same location.
Pros
Casa Wallet offers a hardware product that allows users to run their own Bitcoin Lightning Nodes and manage their node activity with a web-based node management system.
Users have access to 24/7 customer support through phone and Email.
Users are required to make three individual requests in order to transfer funds before any transaction is authorized.
Cons
The services provided are suitable only for non-institutional customers or high-net-worth individuals (HNWI) who have large amounts of bitcoins.
The sentiment of their services being limited to only one digital asset.
How to Set up Casa Wallet
You have to first sign up for Casa membership.
You can assess Casa's wallet via their mobile app or the web platform.
log in to your Casa account and you're ready to get started.
26. Pera Algo Wallet
The Pera Algo wallet is a secure, scalable, and decentralized wallet that allows you to send, store, and request Algo tokens on the Algorand blockchain. With this wallet, users can access any dApp on the Algorand ecosystem with Wallet Connect support when using their mobile devices. Pera Wallet has full support for Ledger Nano X so that you can add an extra layer of security to your wallet easily. The wallet has also partnered with MoonPay to facilitate the purchase of Algo tokens. You can also send, receive, store, and view your Algorand NFTs within your Wallet, and the Pera Explorer for viewing and sharing them on the web.
Pros
The wallet has a beginner-friendly interface.
You can easily stake Algorand and earn rewards on the wallet.
You can also interact with Algorand dApps, purchase NFTs, send and receive assets, and even create multi-sig accounts.
Cons
The wallet stores only Algorand coins
Transaction fees are high compared to other single asset wallets.
How to Set up Perra Wallet
Visit https://perawallet.app/
Click the "Download Pera App" button, or you can download the Pera Wallet App from the app store on your mobile device.
Click Open to run the app.
You either click on "I want to create an account" or you login into an existing account.
A seed phrase consisting of over 25 words appears on your screen which you must keep securely. That is used to recover a lost account.
27. Natrium Wallet
Natrium is a community-developed fast and secure wallet for the NANO cryptocurrency. The app is available for Android and iOS-powered mobile devices and can be downloaded from either the wallet's official website, Google play store, or Apple's app store. It is also an open-sourced blockchain technology that is hierarchically deterministic so that it can automatically generate a new wallet address every time you transact online.
Pros
Natrium has an integrated in-app address book that allows you to save the wallet address you interact with regularly.
It incorporates the Simplified Payment Verification (SPV) protocol in confirming and validating new transactions.
The wallet does not charge network fees for crypto transfers.
The wallet interface is beginner and user-friendly.
Cons
The wallet does not have 2-FA authentication.
Natrium wallets only supports Nano cryptocurrencies.
How to Set up Natrium Wallet
Download and install the Natrium wallet app version that is compatible with your device.
Launch the app and select "Create a New Wallet" to initiate the activation process.
Choose the account's username and create a password.
A recovery seed phrase appears on your screen which you must write down and store in a safe place. After these procedures, your wallet is ready and safe to use.
28. Wasabi Wallet
Wasabi is a non-custodial software-based desktop communication protocol for creating bitcoin coinjoin transactions with arbitrary amounts. It is compatible with only desktop devices and has built-in coinjoins, coin control, and Tor integration features that secure the IP addresses of users. Being a hierarchical deterministic (HD) wallet,  it generates new crypto addresses in order to receive payments and secure funds. It also uses a BIP 44 account hierarchy which enables a user to generate multiple addresses and have them backed up in a 12-word recovery phrase.
Pros
It is open-source and free, giving users more control over the software they run.
It can incorporate locally installed or automatic Tor integrations to shield the IP addresses of Bitcoin users.
The wallet is coinjoined enabled so that there's privacy in Bitcoin transactions
Cons
It has only a desktop version.
The wallet does not offer users the opportunity to earn passive income and rewards through staking, compared to other wallets.
It supports only the Bitcoin cryptocurrency.
How to Set up Wasabi Wallet
Visit the official website wasabiwallet.io
Download the version that is compatible with your device.
Click on the downloaded software to install it.
Launch and generate a new wallet. Set a unique name and set a secure password for it.
Finally, a 12-word recovery phrase is randomly generated which must be carefully backed up so as to recover Wallet whenever displaced.
Popular Tags : Best Wallets to store Crypto & NFTs, Crypto wallets, NFT wallet, Best crypto wallets, Cryptocurrency wallets, Trust wallet, Coinbase wallet, Exodus wallet, GameStop wallet, MetaMask Wallets