Cryptology is a digital trading platform with unique features such as spot trading, bank card support, futures trading with up to 100x leverage, and they have one of the lowest trading fees available on the market.
The exchange was first launched in Singapore, 2018. The platform is solid and stable in structure with a high level of sophistication and automation.
With a daily trading volume of over 37 million USD, the exchange provides institutional grade liquidity with large spreads and instant execution.
This review provides a beginner-friendly tour through Cryptology Exchange, providing you with basic information about the exchange's platform. We do hope that with the information provided, you'll be better positioned to make informed trading/investment decisions.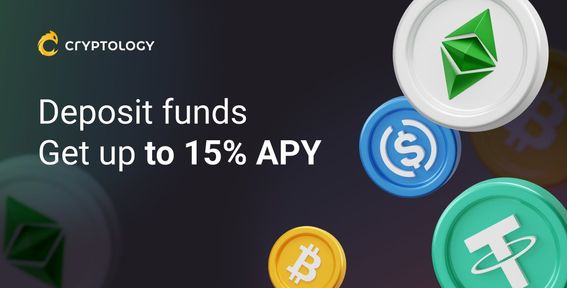 Cryptology Exchange.
Cryptology, a digital trading platform with unique features such as spot trading, bank card support, futures trading with up to 100x leverage, and they have one of the lowest trading fees available on the crypto market.
Visit Website
Cryptology Exchange Overview
The exchange aims to make trading easier for cryptocurrency investors. A user-friendly platform with available trades in both fiat and cryptocurrency.
They offer a flat trading fee of 0.20% which means makers and takers are charged equally on the crypto exchange platform. The trading fee is slightly lower according to global industry average standard of 0.0008 BTC, thereby increasing the exchange's liquidity.
This trading platform is an entry-level exchange as it accepts both fiat and cryptocurrency deposits. There is also a "refer and earn" system that aims to "introduce like-minded friends to trade with their preferred trading platform". Once a user refers a cryptocurrency investor to Cryptology, they "receive 30% of their referrals' trading fee".
key Features of Cryptology
Cryptology Earn
Cryptology earn is a passive income product that allows investors make profits on their crypto savings. There are two basic ways you can earn on this trading platform, through;
Savings
Digital assets are saved in your "earn account" and you make profits as long as your funds remain in your earn account. The profits are summed up and can be redeemed after the end of a lockup period.
Staking
Another way to earn passively on cryptology exchange is by staking. While cryptology earn is available on a wider variety of cryptocurrencies, Staking is available only in proof-of-stake blockchains. It involves "locking up" a portion of your crypto assets for a period of time as a way of contributing to a blockchain network for which you're being rewarded.
Cryptology x2 bonus
This bonus is actually applicable to futures traders. It allows new users who trade futures to reduce the risk of liquidation.
How does it work?
They double your first deposit below $100. For deposits above $100, you a receive an additional $100. The bonus is converted to BTC if it was deposited in USD or ETH.
Cryptology Simple Exchange
This feature allows users to quickly convert fiat into cryptocurrency. This is especially aimed at those who are new to online trading with crypto.
All you need to do is; Go to the Simple Exchange page, add the amount to buy, and enter your bank card details.
💡
Before making any exchange, you need to register and verify your account.
Cryptology mobile app
The trading platform is also available to mobile users. If you have an iPhone or an Android device, you can download the application in the App Store or through Google Play. The app is more convenient and faster in buying and selling digital assets compared to the web trading platform.
Cryptology trading volume
Cryptology has a daily trading volume of 37 million USD/2,313 BTC. Although the exchange has experienced some level of spontaneous growth until this current bear market. In November 2019, it had a daily trading volume of 3.4 million USD, in March 2020 it did 4.7 million USD, and in December 2021 it did 47.3 million USD.
Compared to the behavior of mainstream exchange platforms and crypto market sentiment, cryptology's exchange platform performance is somewhat modest.
Pros and Cons of Cryptology exchange platform
Pros
They adopt a "flat fee model" of charging for each trade. Their flat fee is 0.02% between takers and makers. This is in contrast with the pattern of traditional exchanges that charge differently between takers and makers.
Being an entry-level exchange, you can deposit fiat currency through wire transfer or credit card payments, which makes the exchange beginner friendly.
Cryptology exchange platform provides an automated trading bot that works according to pre-set parameters. The bot is designed to perform analysis, and also hint the trader whenever your portfolio is exposed to certain market risks.
Cons
Although you can trade mainstream cryptocurrencies like BTC, ETH, XRP, they have a very limited altcoin selection compared to other mainstream exchange platforms.
The exchange platform does not support countries from US and Japan due to regulatory reasons. And place some sort of restriction on certain features for users in different countries. For instance, Investors from England are restricted from margin trading.
Cryptology Fees
Trading fees
This exchange does not charge differently between takers and makers. They adopt a "flat fee model" trading fees of 0.20%. This is slightly below the global industry average which is usually around 0.25%.
Withdrawal fees
Cryptology charges 0.0005 BTC for withdrawal fees, compared to other exchanges like FTX that charge 0.000046 BTC and Binance, 0.0002 BTC. They're doing considerable okay compared to global industry average which is 0.0008 BTC for withdrawal fees.
To get more details about cryptology fees, kindly visit their blog via the link below;
Cryptology Trading Platform View
Most trading platforms try to include vital features such as an "order book", "price chart" of a chosen cryptocurrency, "order history", and most times, "buy and sell" boxes.
There's no generalized recommendation for a particular trading view, but traders should be able to choose the exchange platform with a convenient and user-friendly view. For cryptology, the trading platform has a user-friendly interface.
Has all the vital features every exchange platform must have according to global standards. The interface is beginner friendly. You can see the fine distribution between the Order-Book interface, Buy&Sell interface, and the Price-Chart interface in the image below.
You can customize Cryptology web trading interface
This exchange allows you to customize your trading view in order to enjoy the best trading experience. Customizing your trading interface allows you to;
Compare different crypto charts to make the right trade entry
Create your own trading workspace with tools you're familiar with,
Monitor and analyze up to 6 trading pairs at the same time.
Supported cryptocurrencies
You can trade most of the biggest cryptocurrencies here at Cryptology, but the altcoin selection is actually quite limited compared to most other top crypto exchanges.
Cryptocurrency
Price
24h Volume
BTC
Bitcoin
20,733.05 USD
0.0217
ETH
Ethereum
1,213.13 USD
0.0905
XRP
Ripple
0.34 USD
0.068
AVAX
Avalanche
20.00 USD
0.0671
DOT
Polkadot
6.74 USD
0.0394
You can get the rest of the data via the link below;
Cryptology Supported Countries
Cryptology is available worldwide except in countries like USA and Japan due to regulatory issues. Although certain regions may also experience some level of limitations regarding the use of the trading platform's features. For instance, England is restricted from Margin trading.
The platform can access up to twelve languages. Among them are Bulgarian, Russian, English, French, Spanish, Korean, Chinese, German, Hindi, Polish and Portuguese.
How to create a trading account
To create a trading account, you need to sign up on the exchange trading platforms and then go through a complete verification process.
In accordance with the company's KYC practices, you have to go through a 3-step verification process:
Basic Verification.
Requires filling in the first name, last name, and date of birth.
Crypto deposits - no limits,
Crypto withdrawals - up to $2,000.
Fiat deposits are not available.
Advanced Verification.
Requires the following details; First and last name, ID document number, date of birth, photo of personal ID, and a selfie with a photo identity card. The form is found on the "Account & Settings" tab.
Crypto deposits - no limits.
Crypto withdrawals - no limits.
Fiat deposits up to $10,000
Full Verification: No Account Limit
This level of verification only requires providing a proof of Residential Address and a copy of document confirming it. You can use a recent (not older than 3 months) utility bill for electricity/gas/water/landline/internet or a bank account statement/official government letter.
Payment options to buy crypto
They provide support for a number of different payment methods. This includes;
Card Payments
Deposits are made using Mastercard or Visa cards without fees. It should be noted, however, that withdrawals from the platform cannot be made using credit or debit cards.
Bank wire transfer
This includes SEPA deposits and traditional wire transfers. Wire transfers are limited to fully verified users. There are no additional fees on deposits made via bank transfer, though withdrawals made by wire transfer will be subject to a flat €7 fee.
Digital Wallets
As a cryptocurrency trading platform, deposits and withdrawals are made via cryptocurrency. Note that crypto deposits and withdrawals will be subject to a flat transfer fee. Although, it depends on the digital assets. Withdrawal fee for bitcoin is 0.0005 per transaction.
Customer support
Compared to other mainstream crypto exchange platforms, they do not have a customer support phone line or a live chat feature. They only have a chatbot that will always refer you to a 'FAQ' page.
To contact their customer support team;
For their web page
Go to the upper right corner near the ID, and click "Submit a ticket"
You can either choose the category of your request, manually describe your question or do both. You can attach files or add any additional data if necessary and click "Send"
For the app
Swipe to the left and click "Contact Support" in the menu bar.
Then, you send a request via email or through their chatbot.
Security on Cryptology
The best way to secure your account is by backing it with Google 2FA Authenticator.
To activate Two-Factor Authentication;
Download Google Authenticator from the App Store or Google Play.
Click the "2FA Enable" button.
Then scan the barcode using the Google Authenticator app or manually copy the secret key. Remember to save your secret key, as it is only supplied once!
Enter a code issued by the Google Authenticator app on your device.
Click the "Enable 2FA" button to complete the process.
Conclusion
The exchange is a convenient trading platform. Has all the basic features any cryptocurrency exchange should have. Accommodates traders at different levels ranging from beginner to expert level.
Mainstream cryptocurrencies are available for trading with modest trading and withdrawal fees compared to some of the best exchange platforms.
Cryptology is beginner friendly, although compared to other mainstream cryptocurrency exchanges, improvements still need to be made especially in its customer support interface.
FAQ section
What is the minimum order size?
The minimum order size is USD $0.10 or its equivalent.
What are the applicable fees for trading futures?
Cryptology has constant trading fees for perpetual futures.
Taker fees: 0.075%
Maker fees: 0.005%
Is a wallet needed to exchange currency?
You will absolutely need your own cryptocurrency wallet for every available currency.
Popular Tags : Cryptology,  Cryptology Exchange, cryptology's exchange platform, Cryptology Trading Platform