Exodus Wallet Overview
Exodus Wallet was founded in 2015 by JP Richardson and Daniel Castagnoli in order to "remove the geek requirements associated with cryptocurrencies and keep their product design a priority in order to make cryptocurrency easy for everyone". Exodus Wallet is cost-free for download with 100+ operating systems supported.
The Crypto Wallet is hardware compatible as it supports users who prefer securing their assets offline.  They entered into a partnership with Trezor Wallet in order to allow their users manage their assets from the hardware wallet. It supports both desktop and mobile devices as Customers can buy, sell, swap, and convert assets within the Exodus app.
Learn more about Exodus, how it works, its features, products, pros and cons, supported currencies, and many more in this Exodus wallet review. However, note that this review does not provide users with any kind of investment advice.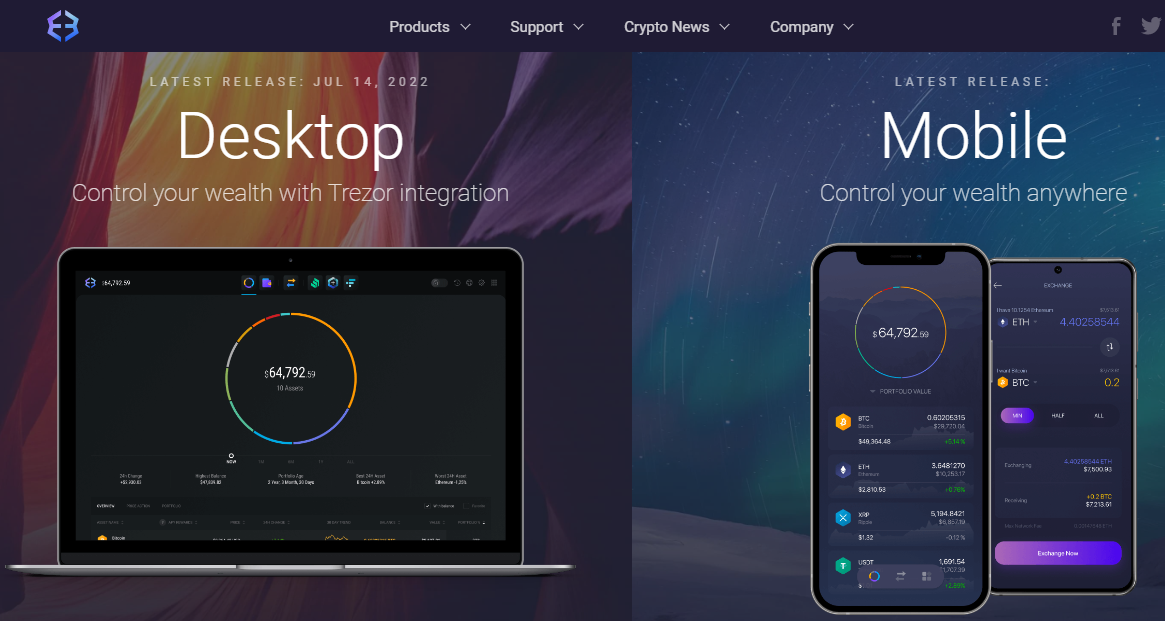 Get your Wallet across multiple devices
Exodus wallet supports both mobile and desktop devices. You can download any version of your choice.
Download and Create your Wallet
How does Exodus work?
Exodus Wallet is easy and intuitive for beginners. If you can use your laptop to browse online then it's unlikely that it's going to be too difficult for you to understand Exodus.
Exodus is a very user-friendly tool for getting started with using a personal digital wallet outside an exchange platform. Each digital currency held in Exodus is displayed on its dashboard.
Like any other cryptocurrency wallet, Exodus also functions through a series of codes that assist users in managing and linking their crypto coins in different blockchains. So, instead of storing crypto, it stores a set of 3 codes – primary keys, seed phrase, and public address.
Primary keys offer access to the crypto coin in blockchains, whereas a public key works as an address to the wallet. However, the seed phrase is a recovery phrase code that helps in regenerating the private keys if they are lost.
Exodus team also designed a portfolio page that displays relevant information, including the breakdown of the crypto coin owned and their updated values against fiat currencies.
Exodus Best features
Exodus has an amazing user interface
One of the most unique factors that make Exodus stand out is its amazing user interface. The intuitive UI makes navigation easy. Do note that a unique UI is very important to avoid expensive crypto errors, hence, UI for both the mobile and desktop versions of the app is superb.
Supported Digital assets
Exodus supports more than 255 digital currencies, across seven separate blockchains. Users can buy and sell, as well as swap currencies on Exodus' exchange.
Additionally, Exodus' partnership with FTX allows users to access the exchange directly from the Exodus App, facilitating the transfer of assets between the two platforms.
Users will also find that Exodus has recently integrated the Lightning Network as a payment system. The Lightning Network is a payment system that processes transactions outside of the Bitcoin network. As a result, Exodus users who take advantage of this feature will benefit from faster and less expensive Bitcoin (BTC) transactions.
An Epic NFT Marketplace
Another recent feature is the ability to buy, sell, send, and receive NFTs within the Exodus NFT Marketplace. This feature, via its partnership with Magic Eden, is available on both the mobile and desktop versions of the app.
The Wallet supports receiving, viewing, and sending SOL NFTs on the Solana network, and ERC-721 and ERC-1155 NFTs on the Ethereum network.  Also, they support buying, selling, and trading SOL NFTs in the NFT Marketplace
Holders can stake their assets
Exodus Wallet affords you the opportunity to stake your assets. You earn rewards in interest for staking your asset over a period of time.
This feature applies to ALGO, ADA, ATOM, ONT/ONG, SOL, XTZ, and VET/VTHO, with each asset having its own distinct parameters specific to staking. Finally, as it relates to software updates, Exodus maintains a relatively frequent cadence, at one every two weeks.
Its Integration with Shapeshift
An integration between Exodus and ShapeShift Exchange has led to a unique value position. ShapeShift, one of the best crypto exchanges is praised for its trading, security, user interface, and privacy features. Exodus users can trade on this crypto exchange directly from the Exodus wallet with extra speed and privacy.
Ramp on Exodus.
Ramp offers Exodus the easiest method to purchase cryptocurrency directly from a corresponding wallet. You can now purchase Cryptos via your smartphone without having to use a currency exchanger. Buying Cryptos using Ramp is extremely easy and is saved to your Exodus account to prevent any additional charges.
Currently, Ramp is able to purchase cryptocurrencies such as Bitcoin, Ethereum, and Solana. Ramp accepts Apple Pay, Visa, Master Card, and PayPal in most jurisdictions, and Google Pay is coming soon. You will need a bit more identification verification for the purchase via Ramp.
Digital assets supported by Exodus
Exodus boasts of its support of more than 255 cryptocurrencies, including Ethereum, Bitcoin, and Litecoin. Here are a few significant cryptocurrencies users can use to store in Exodus wallets;
However, to go through the full list of supported cryptocurrencies check this link.
Exodus Wallet Pros & Cons
All good crypto markets contain its advantages as well as its shortcomings. Exodus wallets review has outlined some areas where digital wallets excel in a certain respect. The Advantages.
Pros
Supports Multiple Cryptocurrencies
Exodus allows you to store more than 100 digital and specific coins in a single place, and hence, it becomes easier to spend and trade significant cryptocurrencies.
Automatically Adjustable Fees
This Exodus advantage is for beginners who are still not confident with fixing the correct transaction network fee. Transaction fees can be adjusted to suit different levels of convenience.
Built-in Portfolio and Trade Functions
It is easy to swap one cryptocurrency with another and keep track of daily profits or losses on Exodus.
User-Friendly Interface
Exodus is the most user-friendly wallet and ease of use, first time built for all kinds of users in the crypto community.
Cons
Lacks Important Security Support
It does not include necessary security features like multi-signature support or two-factor authentication making it super easy to hack by using keyloggers to steal your logins, thereby gaining access to your wallet.
Lacks Crypto-to-fiat Transactions
It does not support crypto-to-fiat transactions.  This drawback can be a sort of limitation for beginners who are yet to be familiar with transferring digital assets across crypto platforms.
How do I get started with Exodus wallet?
The desktop and mobile versions of Exodus Wall are both available for download via this link. Please note that it is not advisable to get their products via an alternative platform, to avoid using cloned products.
For your Desktop App
Click on the [Desktop] button, and choose your preferred device (Mac, Windows, Linus). Click on download, and then install the app.  Finally, begin your first transaction.
For the Mobile App
Similar steps apply to the mobile app, but this time, you're accessing the download page on your mobile browser.
Fees & Limits
You're not charged for receiving or sending crypto assets into Exodus Wallet. Unlike a typical Exchange platform, Exodus does not retain any part of the transaction fees charged for withdrawing Bitcoin (BTC), Ethereum (ETH), or any other cryptocurrency.
Exodus Wallet Customer Service
Exodus provides customers with a wide choice of wallet services. It is extremely flexible for customers and provides a vast database of customer assistance and a customer support site with user-related issues whatsoever. Users can contact Exodus via email or by phone via the app as they claim to be available 24/7. They also help users find assistance videos from their websites.
Exodus Wallet Security
To further provide users with advanced-level security, Exodus Wallet partnered with Trezor to allow users to manage their assets from the Trezor hardware wallet. With the hardware wallet connected to Exodus, users can send, exchange, and receive assets while maintaining their private keys and assets offline.
This feature automatically alienates the Wallet from traditional incidences of hacks by cyber bullies, which is usually common with hot storage wallets.
Conclusion
Exodus wallet is an excellent choice for any cryptocurrency enthusiast, particularly those that are in the early stages of their crypto journey. The attractive design of the intuitive interface allows users to send, sell and buy a cryptocurrency and exchange them in small amounts without requiring a lengthy process.
Given the pace of Exodus' updates, the company is on track to continue to grow its base of supported assets and apps. However, one of the major gridlocks associated with using the Wallet is that initial purchase of cryptocurrency cannot be made directly through the wallet. Instead, users must use a third-party payment system in order to convert their fiat currencies (USD, CAD, EUR) into digital currency.
This review is only a reflection of my perspective and is in no way a bit of investment advice. Readers are solely responsible for their investment decisions, as you're always advised;
do your due diligent research and do not invest money you can not afford to loose
FAQ
Is Exodus Wallet Staking safe?
It's actually as safe as holding the money inside your purse or pocket. Your stakes will remain untouched and you can use any funds you've invested.
Can Exodus Wallet be hacked?
The Exodus software wallet can easily get hacked. Users lose money when hacked or maliciously access e-mails and passwords. It lacks security functions such as multi-signature and two-factor authentication.
Are Payments Secure On Exodus Wallet?
For payments, Ramp, for instance, is one of the third-party platforms integrated with Exodus wallet. Along with its recent registration under The Financial Crimes Enforcement Network (FinCEN) in the United States, Ramp has been adopted by some of the world's most established brands. Ramp ensures that payments are made through credit/debit cards as well as visa cards. And the procedure is seamless.
Popular Tags : Exodus Wallet, Exodus Wallet Review 2022, Exodus app, Exodus, Exodus' exchange, Exodus NFT Marketplace, Exodus Wallet Customer Service, Exodus advantages, Exodus Wallet Security, Exodus' updates